BC Care Providers Association presents the final nominee for BC Care Provider of the Year in Long-Term Care, Karen Fagan of Kinsmen Lodge-Pro Vita Care.
Working as a Registered Care Aide at Kinsmen for 32 years,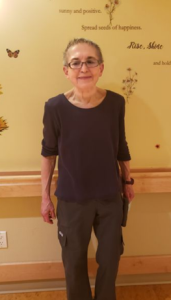 Karen personalizes care that is unique to each resident and knows highly of the details that best suits the clients. Karen is also in touch with families and provides them with feedback and education on how to provide the best care for their loved ones. She consistently works with family and connects with them to ensure the clients needs are met. Despite having severe allergic reactions from immunizations, Karen still received her COVID-19 immunization to ensure the best care for residents. As such, Karen advocates for the best quality of care and safety for residents at both Kinsmen sites.
Below are testimonials from Karen's beloved colleagues and family members of residents.
"Kinsmen Lodge is 45 years young, and Karen has worked with our Elders for 32 years. We have a history of providing excellent care to seniors in Surrey and she exemplifies how we achieve that accolade. When we moved from our old care home 10 years ago, Karen was first and foremost a team player who helped make the move of 144 frail elders safe, happy, and from my perspective, successful. They were all transported via our bus and with waiting teams to assist them in their new home. It was staff like Karen who made the move possible without any safety challenges. Kinsmen Lodge is now home to 157 frail Elders and we consistently achieve Accreditation with Exemplary standing thanks to the dedication and passion our staff show for our Elders. Karen is a leader among them. I support this nomination with all my heart – Karen deserves this recognition for her commitment to Eldercare, her compassion for those Elders in her care, her focus on safety and willingness to pursue advanced education to stay current in our sector and provide the best care possible." – Kathleen Kennedy-Strath, MBA, CPA, CMA, ICD.D. Chief Executive Officer
"The thing about working in Long Term-Care is the better you are, the more work you make for yourself. Karen is always the hardest worker in the room and it's a testament to her love for her elders and their love for her. She works tirelessly for her elders, while often being an emotional support to their families as well. Over the years I've picked up shifts just to work with "The Boss," a nickname given from those who love her most. Working with her I've learned so much. I'll never forget a daughter trying to give her mother juice with a straw. She really struggled getting her Mom to drink with the unique position she was in. We couldn't find a solution, Karen just walked over flipped the straw upside down and it instantly solved the problem. We were awestruck. Karen's experience, patience and sense of humor are a gift to all those she has worked with, cared for and mentored. I know her advice with follow me throughout my career." – Jenn Harris
"I have known Karen for a long time at both Kinsmen sites. She is one of the most reliable and caring employees Kinsmen has ever had. She is a mentor to new staff. She is definitely an advocate for quality of care and safety for our elders. Family members love her she make them feel at ease Elders are being given excellent care. It will be a great loss to Kinsmen when she retires. Karen gives of her own time tirelessly looking after KL lodge neighborhood cats. I don't think there is anyone more deserving of the BC Care Award." – Paul Chappelle, Building Operations
"Our mom resides in Kinsmen Lodge on Bridgeview. She has many complex needs and Karen is in tune with all of them. Our mom has Parkinson's with Dementia, Osteoarthritis and Dysphagia. Our mom does not talk and cannot express herself if she is uncomfortable or in pain. Karen has picked up on mom's various moaning pitches/signals and keeps them in mind when she bathes/showers her, dresses her, puts her in her wheelchair, puts her to bed and feeds her. She has also educated many other care aides as to our mom's complex needs. When Karen arrives on shift, she always asks … "How's mom? Is there anything I need to know?" Karen has also always put the needs of the elders above her own and this was evident during the COVID pandemic and the various heat domes and heat waves we've had. Karen Fagan is the "constant" on Bridgeview. You can definitely feel her absence when she is on days off or on holidays and her presence when she is on shift. Karen Fagan has dedicated 32 years to the caregiving profession and to Kinsmen Lodge. During this time, she has greeted many newcomers and had to say good-bye to many as well. As a care aide, Karen has elevated the meaning of dedication and compassion and should be rewarded with the care aide of the year award."  – Letzing family
BC Care Provider of the Year | Long Term Care Award is sponsored by: