Leading figures from across the country met at #BCCPA2022 to start essential conversations about caring for our most vulnerable members of society, seniors.
BC Care Providers Association's (BCCPA) 45th Annual Conference has wrapped and deemed "a premier long-term care event in North America." Members have been looking forward to an in-person event for the past two years, and the conference in Whistler, BC, did precisely that. The conference brought new and seasoned members to meet with service providers in educational sessions and networking events with a picturesque background at the Fairmont Chateau Whistler.
"Being a new GM, I was able to make connections and see the vendors face to face. I loved the networking I was able to do. Meet people and discuss ideas…" – Anonymous quote from a post-conference survey.
BCCPA and EngAge BC would like to thank all its speakers, sponsors, exhibitors and delegates for supporting the growth of this vital gathering as the conference brought together more than 550+ attendees.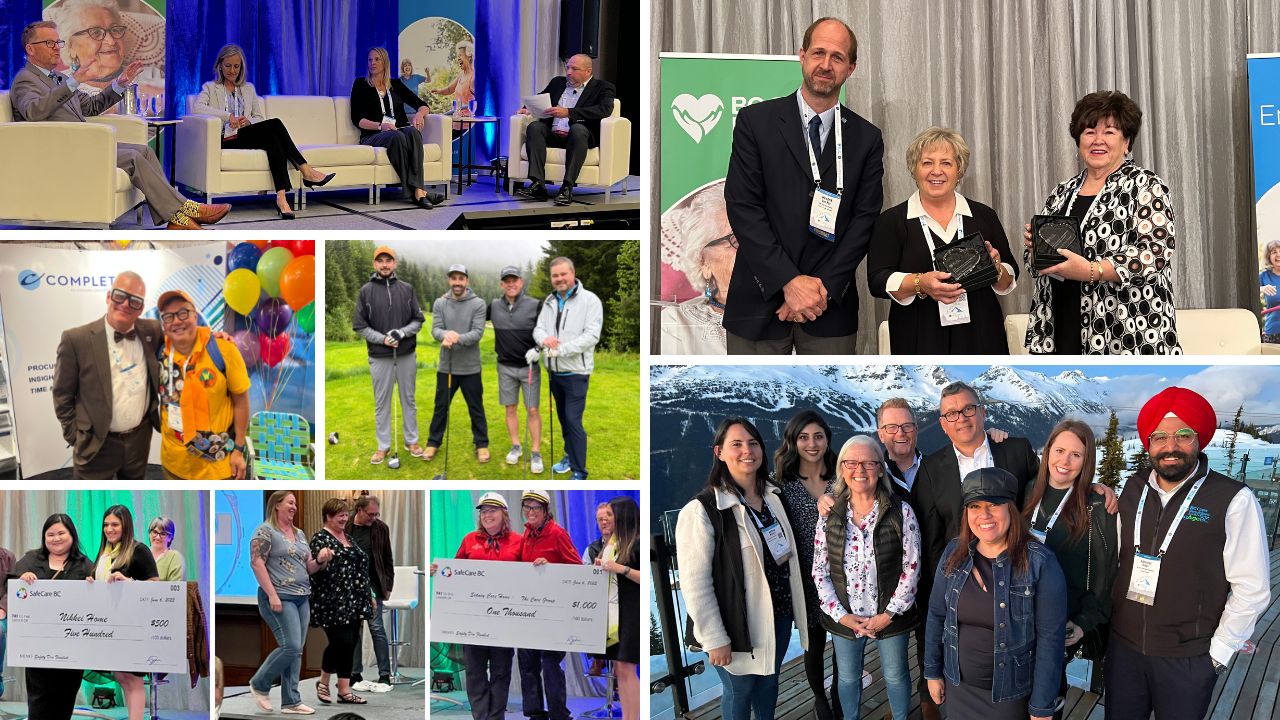 #BCCPA2022 Photo Albums
Be sure to view and download high resolution photos from our 45th Annual Conference.
Conference Highlights
In his opening keynote address heading up a list of world-class speakers, Terry Lake, CEO of BCCPA and EngAge BC talked about where Canada was, where we are now and what will come ahead. Lake also drew attention to working on the front lines in seniors' care and recognizing our solidarity and commitment to the Team BC approach. He then drew focus on the world's next existential threat cited by the RBC report: Canada's ageing demographic but managed to set the tone of hope and opportunity for the sector.
#BCCPA2022 also had valuable insights from a long list of VIP speakers, including:
Erin Beaudoin, Chief Motivator, ED, Eden Gardens
Jennifer Lyle, CEO, Alzheimer's Society of BC
Karen Biggs, CEO, Menno Place
Kelly Tremblay, Researcher and Scientist, 3rdPlus, 3rdThird Marketing
Michael Kerr, Hall of Fame Business Speaker, Humor at Work
Penny Gagnon, Chief Advisor, CARF
Ron Pike, Chief Executive Officer, Elim Village
Bill Baker, Principal, BB&Co Strategic Storytelling
Mary Ellen Sanajko, Founder + Senior coach, Conduit Coaching
Susan Ryan, Senior Director, The Green House Project
Karen Tyrell, CEO, Personalized Dementia Solutions Inc., Dementia Solutions, in Partnership with Handicare
Jodi Hall, CEO, Canadian Association of Long-Term Care
Stasia Hartley, Interim Regional Director, BC., Bayshore Home Health
Derek Dujardin, Creative Director, 3rdThird Marketing
Marc Kinna, President & Chief Executive Officer, Baptist Housing
Cynthia Thurlow-Cruver, CEO and President, 3rdThird Marketing
Jan van der Hoop, President, Fit First Technologies
Robert Smart, President, Vametric
Danielle Just, PHD Candidate, Lawrence S. Bloomberg Faculty of Nursing, University of Toronto
Salimah Walji-Shivji, COO & Genral Counsel, AgeCare – Communities of Care & Wellness
Supreeti Bhalla, Director of Opportunities, Government of British Columbia
Bev Shuttleworth, Manager, Partner Relations Employment, Government of British Columbia
Saleema Dhalla, CEO, SafeCare BC
Ken Donohue, Sr. Director of Innovation and Partnerships, SafeCare BC
Mike Klassen, Vice President, Public Affairs, BC Care Providers Association
Lara Croll, Director of Policy Partnerships and Workforce Development, BC Care Providers Association.
Topics ranged from the future of the smaller household model and person-directed care; finding, growing and keeping new leaders for senior care needs; new national standards for Canada's long-term care sector; and reinventing a more positive and resilient workplace. Concurrent sessions also played a big part when contributing to the education aspect of the conference. Topics like ageism, the future of the workforce, palliative care, artificial intelligence, staff shortages, and dementia care were also covered.
"The opportunities for networking and meeting new people – I didn't know anyone at the conference and had lots of time to connect and network. I also appreciated the meals and events provided as this gave additional networking time…" – Anonymous quote from a post-conference survey.
Although the conference's central focus was education and connection, it did not fall short on the amount of fun activities. Social events ranged from the Welcome BBQ to a breathtaking dinner at Whistler Mountaintop. In addition, attendees had an opportunity to attend a 1920's themed Caresino night where prizes were up for grabs:
1st prize: $2000 gift certificate to HB Travel – Teresa Alfier
2nd prize: Two-night stay including breakfast- Fairmont Chateau Whistler – Michael Aikin
3rd prize: $250 Visa Gift Card – Daryl Doyle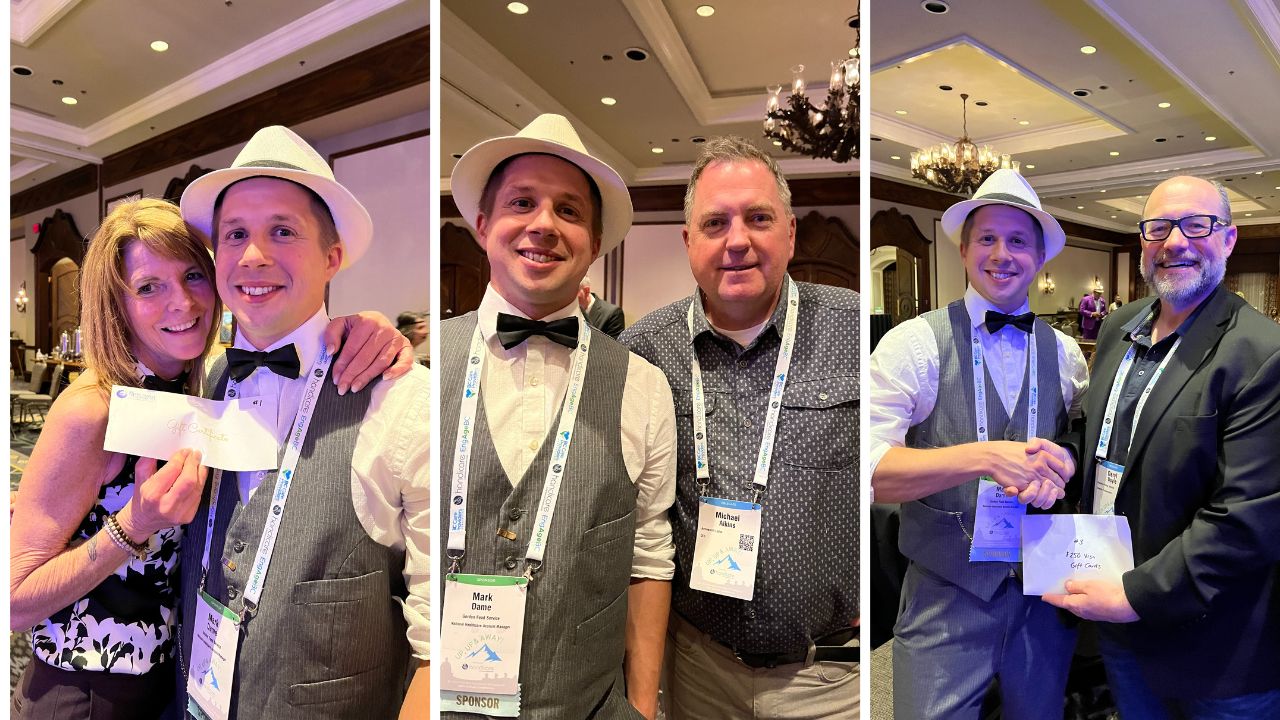 Next year the BCCPA will be hosting yet another conference in response to massive demand and look forward to sharing further information with you.
BCCPA and EngAge BC extend special thanks to its valued sponsors. Their contribution is vital to continue important work. #BCCPA2022 wouldn't have succeeded without the generosity of supporters.
Title Sponsor

Platinum Sponsors

Gold Sponsors

Silver Sponsors

Welcome Visa Sponsor

Session Sponsors