Pressure on seniors care providers mounts as unvaccinated staff eye jobs in acute hospitals
Today's Vancouver Sun front page headline prominently lays out the coming calamity facing seniors care providers as staff who are not vaccinated exit for jobs waiting for them in B.C.'s hospitals. In October, a Public Health order takes effect requiring that all staff in long-term care and assisted living are fully vaccinated (have received both shots). No such order exists yet for workers in the acute care sector, though Dr. Bonnie Henry has said one is imminent. To read the full report by Vancouver Sun, click here.
Why is this an issue?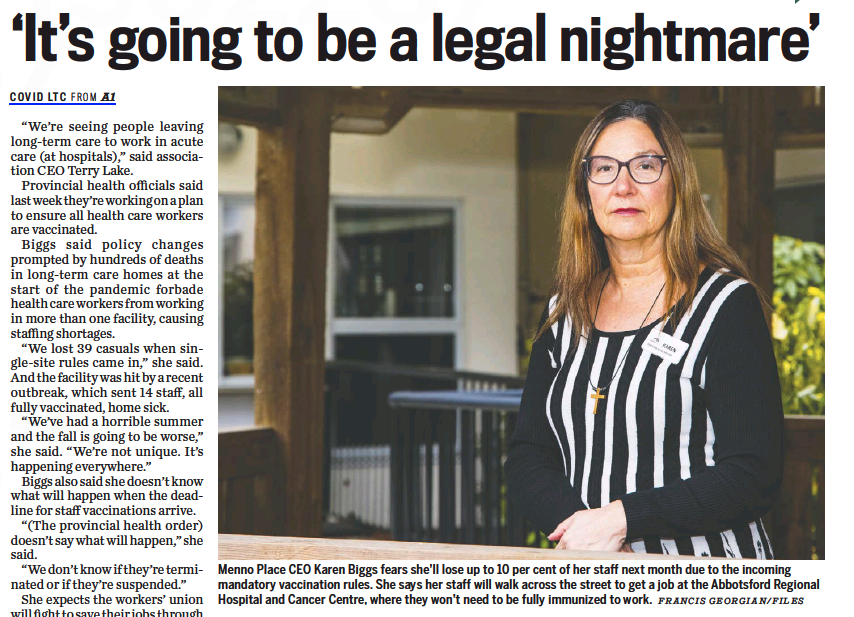 Long-standing staffing shortages have been a critical issue requiring attention from federal and provincial government officials. The COVID crisis has led to loss of staff, particularly casual employees who relieve other employees during vacations and sick days. If even more employees are unable or unwilling to work in seniors care, it will greatly exacerbate an already existing crisis.
What is the immediate solution?
By requiring only staff in long-term care and assisted living (including care aides and other medically trained staff, housekeeping and food services employees) and not those working in acute care (which is also struggling to meet staffing demands) there is a great risk that employees will leave for other opportunities that do not require being vaccinated.
By issuing an immediate order to require all NEW hires in acute to be fully vaccinated, employees will have to make a clear choice between being vaccinated or working in healthcare.
BC Care Providers Association will continue to advocate for this important change to happen immediately to protect our seniors and the staff who care for them.