Dementia Friendly Care Homes
Earlier this year, prior to World Health Organization declaration of the COVID-19 pandemic, the BC Care Providers Association  (BCCPA) along with Alzheimer Society of B.C. and Simon Fraser University (SFU) Gerontology department released a major report titled Dementia-Friendly Care Homes: Best Practices in Dementia Care. This important report identified best practices for people living with dementia in two key areas, namely: 1) the care setting's physical environment, as well as (2) education, training, staffing, and care practices. In follow-up to this important work, a recent article has been published in the Canadian Journal on Aging which provides an overview of the earlier report including a review of the literature and findings as well as a summary of recommendations to make care homes more dementia-friendly (to view full article in read-only pdf format click here).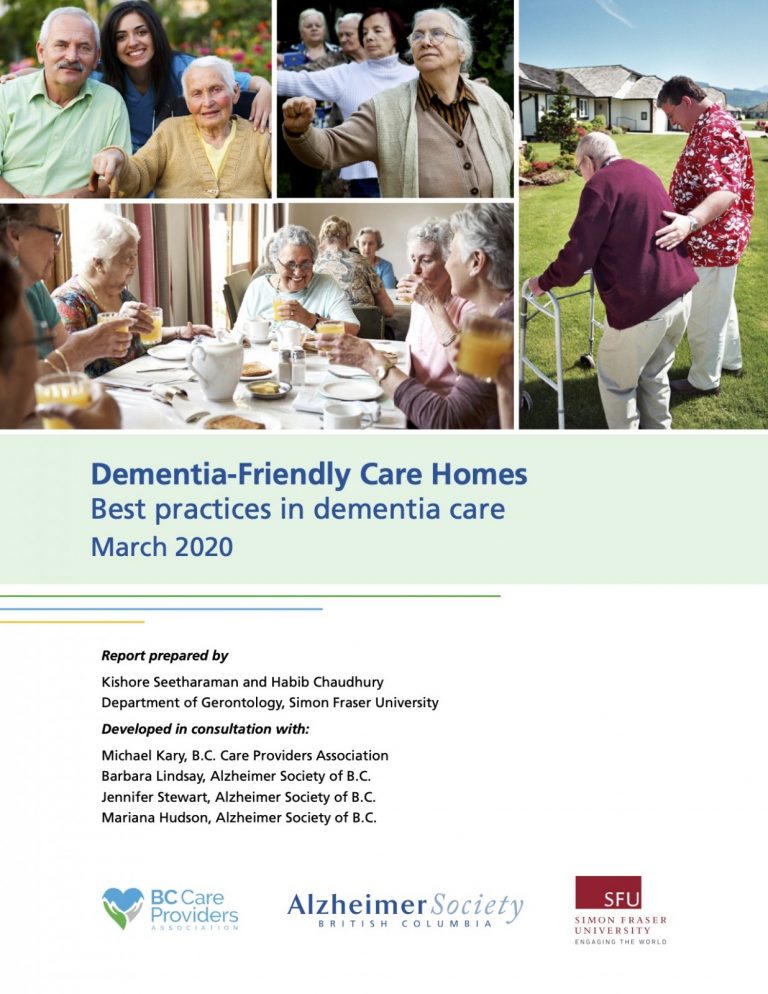 The original report was intended to assist care providers in inspiring and informing initiatives to create a more dementia-friendly care home in terms of the quality of care interactions and the physical environment. Overall, the best practices included a wide inventory of large and small initiatives that can be implemented in care homes to improve the quality of life for persons living with dementia. In March of 2020, BCCPA also hosted a Care to Chat event where it discussed this report further including looking further at various dementia care models, such as the widely noted dementia village.
As outlined in the earlier report, the physical infrastructure component involves creating environments that are distinctive, safe and familiar to seniors living with dementia. As seen from the literature creating supportive physical environments can have a number of positive effects on persons living with dementia including helping people stay oriented, improving daily activities, promoting autonomy and meaningful activity, reducing anxiety, agitation and falls as well as providing better person-centred care.[i]

Along with changes to the physical environment, another fundamental element of making care homes more dementia-friendly is looking at ways staff engage or interact with the people they are supporting. This can be achieved in a variety of ways such as adopting Gentle Persuasive Approaches (GPA) in Dementia Care as well as implementing new care or staffing models.
Impact of COVID-19
Even prior to COVID-19, it was common to see news stories about seniors and their families who are facing serious challenges related to dementia whether it is being able to access appropriate quality care or navigating through a very complex health care system. These challenges have only been exacerbated as a result of the COVID-19 pandemic. For example, as noted in BCCPA's budget submission from earlier this year the coronavirus pandemic has made providing recreational therapy to persons living with dementia even more challenging as in some cases can be difficult to get them to follow public health advice including physical distancing or proper hand washing.[ii]
A recent report from Statistics Canada also found that of the 9,500 people who died from COVID-19 in Canada from March 1 to July 31, 42 percent of women and 33 percent of men, had dementia or Alzheimer's.[iii] In another international report which looked at nine countries it also found that the share of people whose deaths were linked to COVID-19 in care homes who had dementia ranged from 29% to 75%.[iv] In BC, the rates are also probably fairly high given that about 60% of long term care residents have been diagnosed with dementia.
In this regard, the work and report on dementia-friendly care homes is even more important today, particularly as we look at ways to improve the quality of life and care for those living with dementia during these challenging times. Likewise, some of recommendations or practices outlined in the report may not only improve quality of life for those living with dementia but can also reduce or mitigate the spread of COVID-19 in such care settings. For example, along with increasing staffing levels, changes to the physical environment can also play a critically important role in infection prevention and control (IPC).
Research indicates that there are potential advantages of having more self-contained small homes (e.g., 12-16 bed households) with clustered arrangement of rooms, activity and dining areas including more effective IPC, responsive management of residents living with dementia and care interactions.[v] Smaller group size also provides the option to compartmentalize residents who might be at greater risk of infection, as well as isolate residents who are infected.[vi]
Household Model of Care
One such model that may deserve further consideration particularly to limit future COVID-19 outbreaks is the household model where about 8 to 15 residents live together in smaller units.[vii] Recent literature has shown that persons living with dementia also experience better quality of care in home-like, clustered accommodation models.[viii] In particular, home-like, clustered domestic models of care are associated with better quality of care, specifically in regards to providing access to the outdoors and flexibility of care.[ix]
Other research has found home-like models, which consist of smaller groups of up to fifteen residents, are delivering better outcomes for a comparable cost.[x] For example, people living in home-like settings were less likely to be admitted to hospital or transferred to an emergency department and were 52 percent less likely to be prescribed a potentially inappropriate medication.[xi]
As outlined in a report from the United States moving forward, ideally nursing homes and other institutional settings should be smaller, with single-occupancy rooms and low staff-to-resident ratios. Environments that offer a more homelike setting can also help with infection control and can lead to better health outcomes for residents with Alzheimer's disease and other dementias.[xii]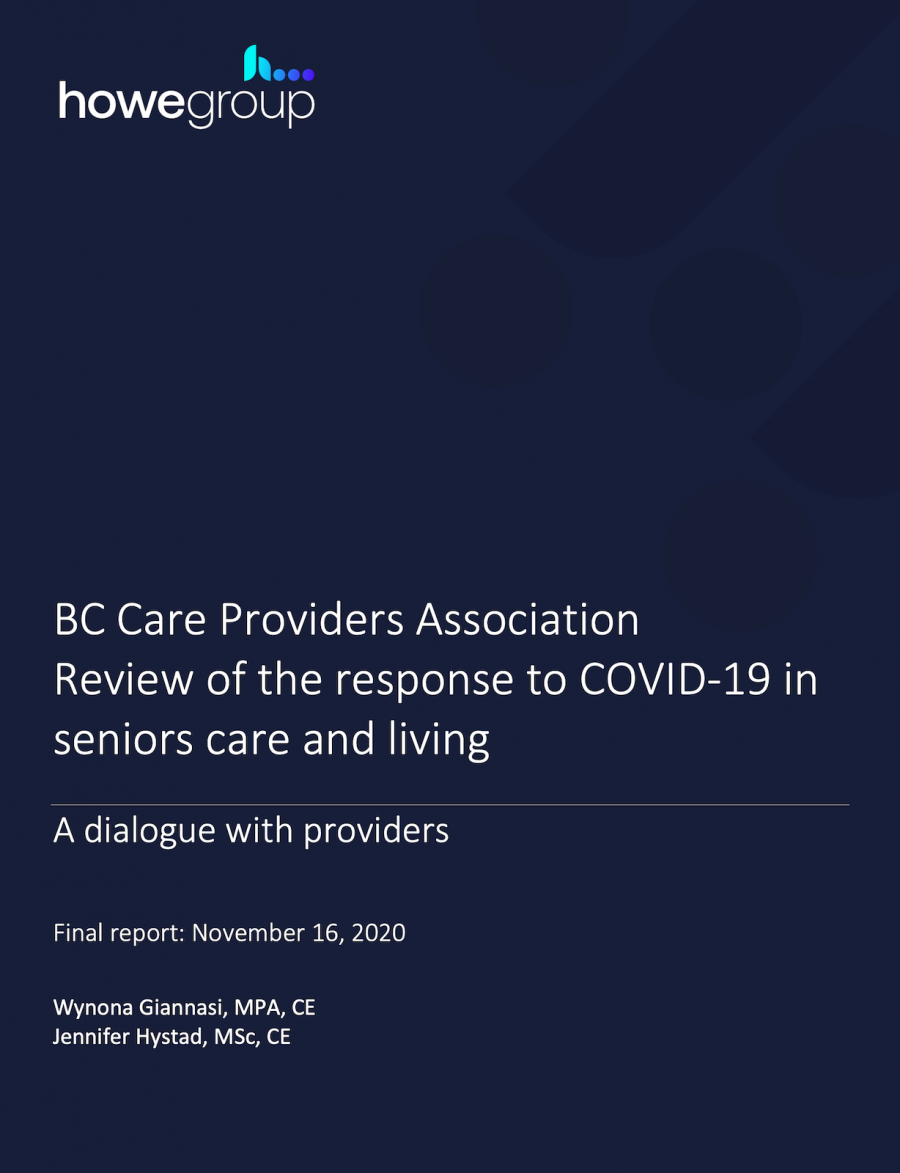 What ever the future of long term care is, it is almost certain that COVID-19 will result in some significant changes to how its is delivered and structured. In this light it will be important to look at fundamental changes which can improve the safety and quality of life of seniors, including those outlined earlier in the Dementia-Friendly Care Homes: Best Practices in Dementia Care report. Along with obtaining the support of providers such changes will also need to be actively supported by government, health authorities and other stakeholders. In this regard, BCCPA has released a major paper titled Review of The Response To COVID-19 In Seniors Care and Living, which along with other recommendations to deal with COVID-19 pandemic, it advocates to create additional capacity and more suitable environments that ensure reduced transmission of infectious diseases among residents living with advanced dementia.
END NOTES
[i] The Influence of the Physical Environment on Residents With Dementia in Long-Term Care Settings: A Review of the Empirical Literature. Habib Chaudhury, Heather Cooke, Heather Cowie & Leila Razaghi. March 2017. Accessed at: https://www.researchgate.net/publication/314514461_The_Influence_of_the_Physical_Environment_on_Residents_With_Dementia_in_Long-Term_Care_Settings_A_Review_of_the_Empirical_Literature
[ii] BCCPA. COVID 19: A Turning Point for Seniors' Care: Budget Submission. June 2020. Accessed at: https://bccare.ca/wp-content/uploads/2020/06/2021-Budget-Submission.pdf
[iii] Statistics Canada. Study: Contributing causes, conditions and complications involved in COVID-19 deaths in Canada. November 16, 2020. Accessed at: https://www150.statcan.gc.ca/n1/daily-quotidien/201116/dq201116c-eng.htm
[iv] Suárez-González A, Livingston G, Low LF, Cahill S, Hennelly N, Dawson WD, Weidner W, Bocchetta M, Ferri CP, Matias-Guiu JA, Alladi S, Musyimi CW, Comas-Herrera A. (2020) Impact and mortality of COVID-19 on people living with dementia: cross-country report. LTCcovid.org, International Long-Term Care Policy Network, CPECLSE, 19 August 2020. https://ltccovid.org/wp-content/uploads/2020/08/International-report-on-the-impact-of-COVID-19-on-people-living-with-dementia-19-August2020.pdf. In the study, the nine countries included: The UK, Spain, Ireland, Italy, Australia, the United States (US), India, Kenya and Brazil.
[v] In attempting to reduce COVID-19 outbreaks, one of the strategies has been to isolate the people who have the illness and to quarantine those who get exposed. This, however, may be easier to do in smaller settings compared to larger care homes.
[vi] SFU. GRC News covid-19 special issue risk, response, and resilience in an aging covid-19 world Summer 2020 . Long-Term and Formal Community Care Gaps and Solutions. Dr. Habib Chaudhury. https://www.sfu.ca/content/dam/sfu/grc/stories/grc-news/GRC-News-Summer-2020.pdf
[vii] Household-type facilities are designed to operate like a family home as there is usually a smaller grouping of residents around a living/dining area where meals are often prepared in a residential-type kitchen. A self-managed team is also often attached to each household and are specifically trained as universal care partners to personal care, meal preparation, laundry, light housekeeping and companionship. (For further info see: IRPP Policy Options. June 2020. The Case for moving long term car into small households. Accessed at:  https://policyoptions.irpp.org/magazines/june-2020/the-case-for-moving-long-term-care-into-small-households/).
[viii] Aged Care Insite. Home-like model of care "a no brainer": study reveals benefits. Dallas Bastian. June 2018. Accessed at: https://www.agedcareinsite.com.au/2018/06/home-like-model-of-care-a-no-brainer-study-reveals-benefits/
[ix] International Journal for Quality in Health Care. Clustered domestic model of residential care is associated with better consumer rated quality of care. Emmanuel S. Gnanamanickam et. Al. August 2018. Accessed at: https://doi.org/10.1093/intqhc/mzy181
[x] Aged Care Insite. Home-like model of care "a no brainer": study reveals benefits. Dallas Bastian. June 2018. Accessed at: https://www.agedcareinsite.com.au/2018/06/home-like-model-of-care-a-no-brainer-study-reveals-benefits/
[xi] Medical Journal of Australia. Clustered domestic residential aged care in Australia: fewer hospitalizations and better quality of life. Suzanne M Dyer et al. June 2018. Accessed at: https://www.mja.com.au/journal/2018/208/10/clustered-domestic-residential-aged-care-australiafewer-hospitalisations-and
[xii] Building The Long-Term Care System Of The Future: Will The COVID-19 Nursing Home Tragedies Lead To Real Reform? https://www.healthaffairs.org/do/10.1377/hblog20200729.267815/full/