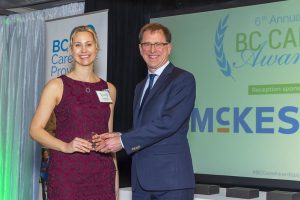 Every year, the BC Care Awards celebrate excellence in British Columbia's seniors' living and wellness sector by recognizing care providers for their passion, dedication, and ability to inspire others.
The BC Care Provider of the Year Award is awarded to an individual who has demonstrated a commitment to quality, compassion and excellence in delivering or supporting the delivery of care to residents or clients.
This post features finalists for BC Care Provider of the Year (Long-Term Care), with an explanation of why they deserve to win, in the nominators' own words.

The 7th Annual BC Care Awards will be presented at the Hearts and Hands virtual conference for health care assistants this week.
The awards are proudly sponsored by McKesson Canada.
Leanna Maltesen – Woodgrove Manor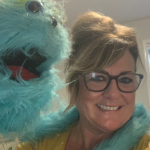 I have never met anyone with such pure passion for making the lives of seniors through activity one worth living. With social isolation due to COVID, and lack of family visits she has shown all the residents love, joy and compassion and a way to enjoy just being. She holds the philosophy that these people are living not dying and any joy she can bring no matter how small is worth its weight in gold. She has connected with residents that no one else has been able to. She sees them all. She finds ways to bring joy back into their lives and has awakened people's spirits we never thought possible. There is no one more deserving than Leanna. Her passion and truly holistic approach are contagious. Her compassion and connection have brought me to tears! She has impacted so many people in this role and prior to this was a care aide for 20 years. She is loyal and patient and an inspiration to all.
Peggy Chua – Woodgrove Manor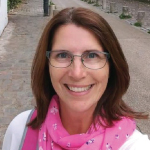 Peggy truly shows what a person with a vocation looks like. A mature care aide that sets examples to anyone she comes into contact with. When orientating she really shows the new staff to "see the resident". She embraces holistic care and is an advocate for the resident in the true sense. She treats them like they were their own. I have seen many care aides in my management position, but Peggy leaves an imprint on both staff, families, and my heart. I cannot think of anyone more deserving than Peggy. She has made a difference in the lives of so many and I could not be prouder to have her on my team.
Sandy Parise – Eden Gardens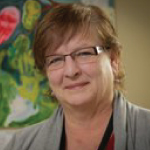 Sandy goes above and beyond on a daily basis. She comes in early and stays late to improve our elders' days every day. She never complains and is often helping everyone remember why we are here and what's important. If you ask for help, she is at your side immediately, no matter if you're the executive director, maintenance, HCA, housekeeping or a volunteer – Sandy wants your day to be great so that you create a great day for our elders. Sandy's personal life also usually revolves around our elders. She volunteers most weekends to come in and spend time or work on projects that improve our day to days. Our care partners and elders and community are lucky to have Sandy as a part of it. She is absolutely the care partner of the year in our books!
Carianne Anderson –  Lakeview Lodge

Carianne works in our specialty unit. She is very attentive to the needs of the residents. She demonstrates exceptional patients and tolerance with our behaviour residents. She is often called upon to assist others. Carainne is the type of caregiver that goes above and beyond. She is dedicated and a great advocate for her residents and coworkers. Her skills with our special care residents with de-escalation and compassion are outstanding.
Keri Severinski – The Village Langley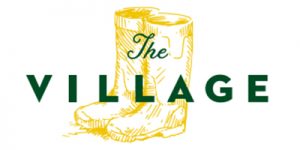 Keri demonstrates her belief and commitment to a person-directed care philosophy and person-centred care outcomes every day. She takes time to develop a rapport with new residents, to learn to know them as a person and to earn their trust. She seeks permission prior to performing any care and does not make assumptions about a person's preferences at any given time. She is responsive, offering creative alternatives and choices and always accepting the decision of the person as an adult with their own lived experience. She is very committed to challenging the status quo, and culture, of how we support older adults living in long-term care. She is not only a care provider but a care partner and advocate. Her commitment to culture change is most evident in her fully embracing life enrichment as an integral component of the health care aide profession. Keri demonstrates qualities of modern health care assistant provision and leadership and is very deserving of this award for her service and pioneering.
Raya Jeckline – Eden Gardens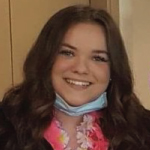 Raya is deserving of this award because she is one of the hardest working HCAs I have ever met. Other than her strong work ethic, she is sweet, kind, caring, and endlessly positive. Raya's hard-working attitude has been shown countless times when working with care staff, helping them with their heavy care assignments and doing it with a smile. Residents' quality of life is visibly better after spending some time with her, as she lifts them up and makes them feel young again with her lively and upbeat spirit. As an LPN, if I could design my ideal team member, I would use Raya as the mould. She goes above and beyond her job expectations every day, and I can't think of anyone who deserves this award more.
Maddy Andrews – Eden Gardens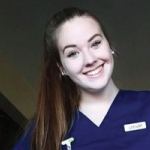 Maddy has shown a great commitment to quality, excellence, and compassion in her delivery and support to the residents and their families here at Eden Gardens. Proving she has a genuine interest in our elders and their well-being daily, she sees them as individuals who deserve respect and attention, regardless of their actions, feelings, or beliefs. She has done this with grace, acceptance, and support. Often advocating for our elders, her actions often result in sustainable change in our resident quality outcomes. She is always helping to battle the three plagues often seen in dementia including boredom, loneliness, and helplessness. We are fortunate to have a care partner who is and has been determined to make Eden more of a home and less like a 'facility' by putting our philosophy into place and allowing our elders to thrive by doing so. Maddy is very deserving of this acknowledgment not only due to her excellent care practices but because she truly has the heart for working in long-term care.
Ellen Sun – Hawthorne Seniors Care Community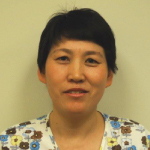 Ellen Sun was a dynamic LPN who showed her colleagues a better way to interact with residents, family members, and colleagues. Residents felt respected by her, they laughed with her and enjoyed the positive atmosphere and attention they received when she was there. Family members waited until she was on duty to bring their concerns and their questions. They knew she was interested in their loved one and knowledgeable about their status. The medical director singled Ellen out for his praise and appreciation. Care team members always wanted to work with Ellen. She never told them what to do; instead, she did it with them. She was always alert to their feelings. If they were tired, she did their work while sending them on their breaks. She created a positive work environment that had a profound effect on quality in the neighbourhood. In the words of one teammate: "Ellen had the biggest heart with unlimited space."
Wajeeha Zubair – Pro Vita at Northcrest Care Centre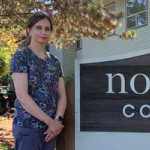 Wajeeha is well-rounded and very easy to work with. She is well respected by her colleagues, managers, and https://bccare.ca/wp-content/uploads/2022/08/medcare-img22.jpgistration team. Wajeeha has strong leadership skills and demonstrates these skills daily when at work. She never complains about having to go the extra mile, and she always performs at 110%. Wajeeha is an outstanding employee that Northcrest feels honoured to have on our staff.
Joseph Mendoza – Broadmead Care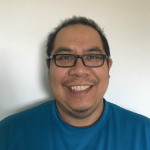 Joseph exemplifies Broadmead Care's purpose – to build communities where every person can experience wellbeing and happiness. He demonstrates people-centred care in everything he does. Joseph is a caring and compassionate care partner, and a leader in our community. He understands excellent care is not just clinical and strives to provide a home for our residents where life, love, and living matter.
Taija Woodward – Mariposa Gardens, Sienna Senior Living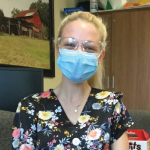 Taija puts everyone else first then herself. She is so compassionate and when she sees something, she does not look for others – she just gets it done. Before visits, she makes sure residents are well taken care of that their hair is made up and they are dressed in their best attire. She holds their hand, sings with them, and translates what families are saying through the window as it may be difficult to hear. Anytime anything is needed, Taija does it with a smile on her face. She is a member of health and safety. She feeds residents, she goes gets them things they need, and if they need help with the phone or TV, she is there.
Marcedeez Brauch – Mariposa Gardens, Sienna Senior Living

Marcedeez lives our vision, mission, and values by providing the warmth of human connection to our residents at Mariposa every day. She is resident-focused in every way from being kind, caring, compassionate, and fun. She is an advocate for their needs. She takes initiative with recreation programs, particularly with music videos which our residents and families love. She really wants her residents to shine and live fully every day.
Kathy Kuitula – Mariposa Gardens, Sienna Senior Living

The joy that she brings to residents with her personality transfers into quality outcomes for our residents. She is involved with music videos with residents through the recreation program. Kathy loves to sing and dance for our residents. She is a positive spirited person who loves to make her residents smile. She has a wonderful sense of humor and is always positive. She is compassionate and kind
Chelsey Thibodeau – Mariposa Gardens, Sienna Senior Living

Chelsey has a very kind and gentle approach with her residents. She loves to participate in recreation programming and makes sure that she engages residents in programming she knows they would like. Chelsey will also think of creative ideas to engage her residents and is an advocate for quality improvements.
Paramdeep Sekhon – Mariposa Gardens, Sienna Senior Living

Paramdeep is called 'Happy" by everyone. This speaks to her personality and outlook on life. She passes this on to her team and her residents. She is respectful to her residents and always makes time to sit with them for one-to-one time. She is a calm and comforting caregiver who always has a smile. She has a generous and warm spirit.
Tammy Garbutt – Mariposa Gardens, Sienna Senior Living

Tammy is resident-focused. She is an advocate for her residents and is always making sure that residents look their best and that their rooms are always tidy. Tammy loves to provide one-to-one or a tea party group with china. She always makes sure that music is playing for residents from the era of their youth which they love.
Theresa Unger – Mariposa Gardens, Sienna Senior Living

Theresa supports the delivery of care in her capacity in the programming/recreation department which is fundamental in providing quality care. Theresa facilitates resident and family visits and creates a monthly calendar for well-balanced programming that reaches all residents. She is an advocate for residents and families. Theresa assisted with a recent video production where she encouraged residents to participate to the best of their capabilities.