We must de-institutionalize care models and create the "best day possible" for those in care
Burnaby, B.C. (June 5, 2019) – A Quality of Life Framework released today by BC Care Providers Association (BCCPA) sets out a roadmap for enhancing quality of life for seniors in British Columbia needing care and support services. It follows ongoing efforts to get government to recognize that caring for seniors is not merely a health matter.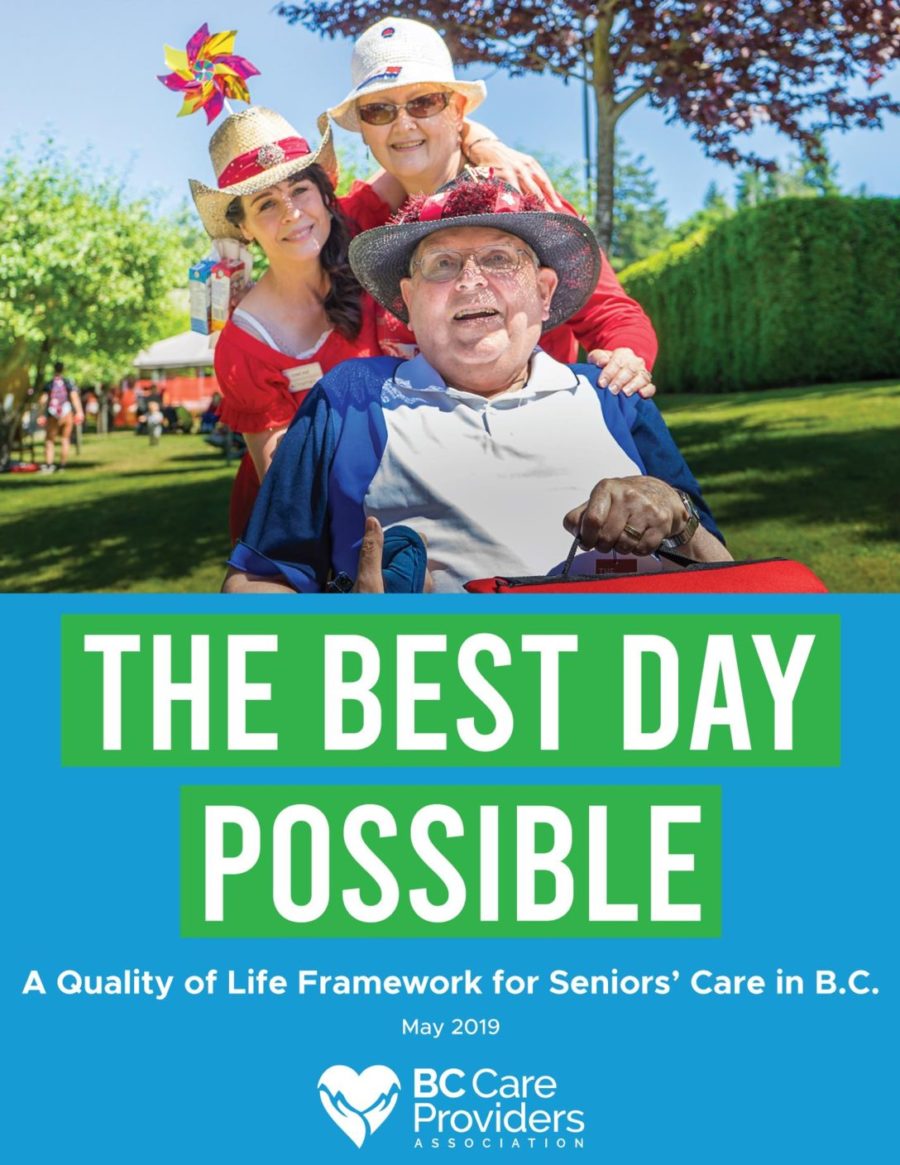 The newly released document developed by the BCCPA Quality Committee – The Best Day Possible: A Quality of Life Framework for Seniors Care in BC  – gives the care providing community a common understanding, consistent language and practical interventions to improve outcomes for the quality of life for seniors in all care settings.
"A senior receiving care – whether at home, or in a long-term care or assisted living – should also have quality of life," says BCCPA CEO Daniel Fontaine. "In many settings this means re-thinking the clinical model of care and taking a holistic approach that factors in the arts, housing, transportation and social supports that go far beyond the traditional healthcare mandate."
The Quality of Life Framework groups a set of actions into four domains: Supportive Environments, Meaningful Relationships, Fulfilling Activities, and Cultural Diversity. Fostering a quality of life-oriented culture in their organizations requires much more attention to the individual, and understanding their needs and values.
"Though we have consistently asked government to assign some funding to quality of life programming, that message has yet to take hold," says Fontaine. "The Framework we hope can also change the perception that seniors just need quality healthcare, and that they also need things that enrich their lives just as younger adults do.
"The Framework can therefore also serve as a bridge for policymakers to help them understand why quality of life is tantamount in seniors care."
In 2017, BCCPA established a Quality Committee that set a goal to enhance quality of life in B.C.'s continuing care sector. The committee includes representatives of home care, assisted living and long-term care organizations.
"The Best Day Possible puts forth our commitment to a new vision to achieve a high quality of life for seniors, and enable them to live their lives to their fullest potential," says Debra Hauptman, BCCPA board director and chair of the Quality Committee.
"We are welcoming ideas and feedback on this resource so that we can continue the dialogue on quality of life and create a culture change in the sector," Hauptman adds.
An electronic version of the full framework document and printable the pocketbook version are available at www.bccare.ca/qualityoflife.
-30-
MEDIA CONTACT:
Rumana D'Souza
Digital Media and Communications Specialist
(778) 681-4859
rumana@bccare.ca
About BC Care Providers Association
Established in 1977, the BC Care Providers Association (BCCPA) is the leading voice for B.C.'s continuing care sector. Our growing membership base includes over 340 long-term care, assisted living, home care, home support, and commercial members from across British Columbia.