Last spring, BC Care Providers Association was awarded a grant by the BC Ministry of Health to develop and manage a new province-wide Seniors Safety and Quality Improvement Program (SSQIP). The $10 million safety and equipment fund is available to all qualifying residential care homes with publicly subsidized beds.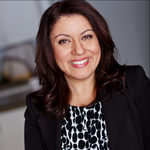 The SSQIP Advisory Group includes representatives from the BCCPA, the BC Ministry of Health, SafeCare BC and the Denominational Health Association. A Request for Proposals (RFP) was released to conduct the a province-wide needs assessment. The application eligibility and criteria for equipment funding will be available once the needs assessment is completed.
"I am very excited about the SSQIP developments over the next few months," says BCCPA Director of Programs Snezana Ristovski.
"Your participation in the upcoming needs assessment is very important to capture the voice of your home and the equipment funding needs to enhance senior safety and quality of life. The needs assessment results will lead to the finalization of the criteria and eligibility for the SSQIP application set to launch mid-December," she added.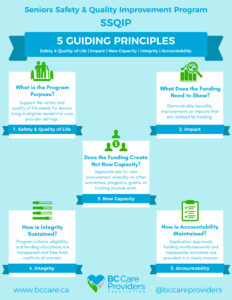 Below are the main updates on the Seniors Quality and Safety Improvement Program.
The Guiding Principles for SSQIP are now available.
The pilot survey for the needs assessment will be launched over the next few weeks. If you're interested in participating, please contact Snezana Ristovski.
The needs assessment survey will be deployed to the eligible residential care providers by the end of October and closed by mid-November.
The criteria and eligibility will be released at the end of November or early December.
The SSQIP Application will be made available on the Programs page on bccare.ca by mid-December.
Stay tuned for more SSQIP updates on BCCPA's
Programs
page.
If you would like to receive regular updates on SSQIP, please email Snezana Ristovski at
snezana@bccare.ca
.