It is with sadness that we belatedly share the news of the passing of the Executive Director of BCCPA member organization Sing For Your Life Nigel Brown. We came to know Nigel as a tireless advocate of bringing the power of song into the seniors care setting, and the quality of life that results from it. Nigel passed on August 31st of this year, mere days after notifying BCCPA about a soon to be published Readers Digest profile on his work.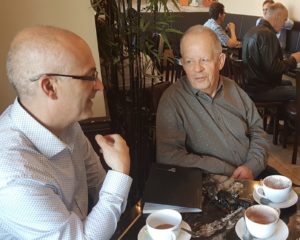 BCCPA CEO Daniel Fontaine met in person with Nigel in Kelowna — Brown's home base — during a listening tour in the Okanagan last April.
"The news of Nigel's sudden passing came as a shock to many of us here at BC Care Providers who knew him," says Daniel. "I became so impressed by his passion for bringing music to seniors, and the quality of life it provides for so many people. He leaves a wonderful legacy."
In his role supporting BCCPA's members, VP Communications and Stakeholder Relations Mike Klassen had frequent interactions with Brown.
"I am so pleased that I was able to connect over the past year with Nigel," says Mike. "He embodied the very best of our BCCPA members by being a champion for seniors' quality of life. It is our hope that the spirit of his work lives on, and more of B.C.'s elderly community experience better health, happiness and well-being through music."
Nigel Brown profile*

When Nigel Brown was growing up in Britain, his home was usually filled with the sound of his mother singing. Even as a senior living on her own in rural England, Katherine Brown loved to sing. "Whenever you drove up to the cottage, you heard singing," Mr. Brown recalled from his home in Kelowna, B.C.
Mr. Brown's brother, Stuart, kept up the singing tradition, joining a choir in Britain and becoming involved in research into the benefits of music for seniors. That led to the creation of Sing For Your Life, a British charity that runs specially designed singing and music programs for elderly people.
Mr. Brown is no stranger to the non-profit sector, having co-founded the Make-A-Wish Foundation of Canada, and he brought the concept to B.C. five years ago, setting up the Sing For Your Life Foundation in Kelowna. The organization runs three sessions, involving singing, music and other activities, for about 100 seniors in total. Mr. Brown, who also helps to raise about $17,000 annually to cover costs, added that seniors benefit physically, socially and mentally from the program. "We see the results and we say, 'How can we stop?'"
Nigel's obituary is published online here.
Listen to an interview with Nigel on CBC Radio Kelowna.
https://soundcloud.com/bc-care-providers-583453035/nigel-brown-sing-for-your-life-cbc-radio-one-interview
*Source: Globe and Mail