Langley Care Society (LCS) announced on Tuesday it will deliver a volunteer-driven Seniors Peer Outreach Program to reach out to socially isolated and at-risk seniors in Langley. The project is funded in part by the Government of Canada's New Horizons for Seniors program.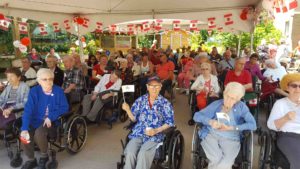 The launch of the Outreach Program coincided with a celebratory Canada 150 gathering of Langley Lodge residents, volunteers, and elected officials. The Lady Larks singing group provided the day's entertainment — see this Facebook video of their performance by LCS board president Jeremy Sutton. The group performs as part of the Concerts in Care program conducted by the Health Arts Society.
The partnership project was officially announced at the Langley Lodge Canada Day Concert yesterday. Hon. John Aldag, MP for Cloverdale – Langley City, provided a greeting on behalf of the Government of Canada. Mark Warawa, MP for Langley-Aldergrove also attended, as well as both Langley Township and City of Langley mayors, and a representative from local MLA Mary Polak's office.
Awesome day in #LangleyBC too 🙌🏼
🤝 Announced a $25,000 ESDC investment in a new peer support program for seniors at @LangleyLodge #Canada150 pic.twitter.com/qwfYgzGRtX

— John Aldag (@jwaldag) June 28, 2017
A major thrust of the program is to develop a peer volunteer network of active seniors who will receive training to conduct outreach activities. Isolated seniors include those who live alone and do not have family or friends nearby , and who have physical, cognitive or financial challenges which limit their ability to participate in local community activities where seniors meet for social/recreation purposes.
Had a fantastic time celebrating Canada 150 at Langley Lodge yesterday afternoon! The weather was great and the company was even better! pic.twitter.com/E9EdZVg7SH

— Mark Warawa (@MPmarkwarawa) June 28, 2017
Recruitment of volunteers is already underway, through the new Langley Volunteer Bureau, local print media advertisements and the Langley Lodge Volunteer webpage. Volunteers must be 55+ years, preferably have a healthcare or social services background and effective communication skills and be available a minimum of three hours per week. The outreach program will provide phone outreach, face-to-face visits, and an invitation to participate in a weekly lunch and activity program at Langley Lodge with transportation included.
"The Seniors Peer Outreach program is an extension of the socialization and recreational work that we already offer to our residents. Now, more seniors who are living in surrounding neighbourhoods and who would like to have a regular visit, or attend a regular lunch and social outing at Langley Lodge, will have that opportunity", said Debra Hauptman, LCS CEO.
"We see the Seniors Peer Outreach Program is an innovative, community-based, non-health funded program that engages local volunteers," adds Hauptman. "We anticipate growing demand for the program, especially with the 'home is best' direction for seniors care coming from our senior levels of government."
Langley Lodge founded in 1974, and operated by the Langley Care Society, is a nationally accredited non-profit organization which provides residential care services. The organization has an established volunteer base and volunteers already support recreation programs at the Lodge.