It was a picture perfect day to hit the links, and host our annual BCCPA conference golf tournament. Dozens took to the Fairmont Chateau Whistler golf course last Sunday morning for a round of Texas scramble, and to take in the glorious snow capped peaks.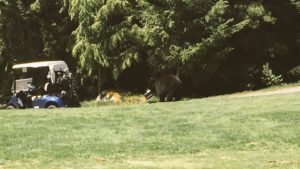 Our master of ceremonies Steve Pollard was in fine form, dressed head-to-toe in green garb. Perhaps he was trying to camouflage himself out on the course in order to escape the notice of several black bears wandering the fairways.
While no one's safety was ever in jeopardy (staff took care to temporarily close part of the course), people will be talking about the black bear that made off with one of our golfer's lunch.
We have prepared a photo album for those who played that day, and for those who wished they could have joined them. Click through the photo slides below.
Congratulations to the day's tournament winners, and a big thank you to our 2017 tournament sponsors:
Golf Cart Lunch sponsored by Chartwell
After Golf Reception sponsored by MIP
Tee Sponsors Arjo Huntleigh, Dynamic Specialty Vehicle, and Maxwell Management
Prizes sponsored by London Drugs, Bayshore Home Health, and Marsh Canada
Over the coming days we will share some of the highlights of our 40th Annual Conference and Celebration through images, as well as a conference look back featuring many of the presentations.