You now have one more great reason to sign up as an early-bird delegate for our 40th Annual Conference – besides the reduced fee. All of our early-bird delegates who register for the conference before the Feb 1st deadline will be entitled to receive complimentary copy of Better Now: Six Big Ideas to Improve Healthcare for All Canadians.
"We're pleased to have secured a copy of this book for all of our early-bird delegates," says Cathy Szmaus, Conference Director. "We've had some incredible positive feedback about securing Dr. Danielle Martin as our keynote speaker and the response in terms of delegate registration has been excellent."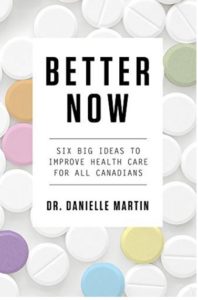 The Annual Conference Committee will be meeting in the coming weeks to finalize the program and confirm the final list of presenters. This year's conference will incorporate a couple of exciting new features including our first-ever "Care to Debate" as well as the 2nd Annual "Safety Den" brought to you by SafeCare BC.
"Our final conference program is going to reflect the fact we are celebrating our 40th Anniversary and the people who helped to get us here," says Szmaus. "The response so far from care providers, sponsors and presenters has been overwhelming and is really a harbinger of things to come. You will definitely want to be up in Whistler this year to both learn and celebrate with everyone within the continuing care sector."
To register for the conference as an early-bird delegate please click here.