FOR IMMEDIATE RELEASE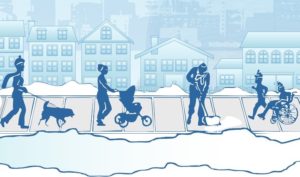 Vancouver, BC – With cold weather in the forecast for BC's south coast region, the City of Vancouver and the BC Care Providers Association are reminding home and business property owners of their obligation to keep sidewalks cleared and free of icy surfaces, in part but not exclusively because of the safety concerns for our seniors population and those who care for them.
"We are joining an effort by the City of Vancouver and other BC municipalities to raise awareness on this important matter of public safety – and keeping our sidewalks cleared of snow and ice in front of homes and businesses," says BC Care Providers Association CEO Daniel Fontaine. "While many municipalities have bylaws that require property owners to keep sidewalks clear of snow and ice, we think that public awareness is the key to keeping these pathways safe for citizens."
Citizens are asked to clear snow and ice from the full width of sidewalks that surround their property by 10:00am on the morning following a snowfall, seven days a week.
"Through the City's Snow Angel program, we encourage residents and businesses to lend a hand to those who are unable to shovel their own sidewalks, by adopting the sidewalk of a neighbour and keeping it clear of snow and ice all winter long," says Sadhu Johnston, Vancouver City Manager. "If you see a sidewalk that has not been cleared, please report it via the VanConnect app or call 3-1-1."
"Social isolation is a big challenge especially for seniors and those with mobility challenges during winter," adds Fontaine. "If you think your neighbour has any difficulty getting in and out of their homes for groceries or other basic needs, we hope that all of us will take a moment to contact them to check on their well-being."
The City of Vancouver would like to remind residents and businesses that all Vancouver property owners and occupants (tenants) who fail to remove snow and ice that surround their property by 10 a.m. daily may be subject to fines.
– 30 –
MEDIA CONTACTS
BC Care Providers Association: Mike Klassen 604-377-5499
City of Vancouver: Corporate Communications, 604-871-6336, media@vancouver.ca