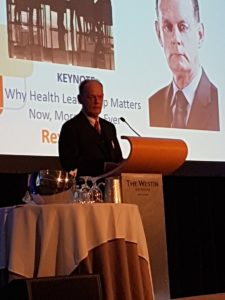 The BCCPA was proud to be a silver sponsor for the annual Canadian College of Health Leaders (CCHL) BC Health Leaders Conference held in Vancouver this week. A number of great speakers were in attendance including the CBC National's political commentator Rex Murphy.
"We had a great number of delegates who dropped by our exhibit booth," says Cathy Szmaus, Director of Events and Administration. "There was a real buzz on the exhibit floor and a clear interest in the high quality of presenters it attracted."
Also attending the conference was Michael Kary, Director of Policy and Research and Karen Baillie, Chair of the BCCPA Board of Directors. "The two-day program covered a number of great topics related to the engagement of patients," says Kary. "It was a great opportunity to hear from the experts regarding best practices and the latest research."
The BCCPA had a special exhibit booth raffle which awarded one lucky winner with two tickets to the next Care to Chat event taking place on November 17th at the Terminal City Club. The winner was Bernice Budz, Dean of Health Sciences from BCIT.