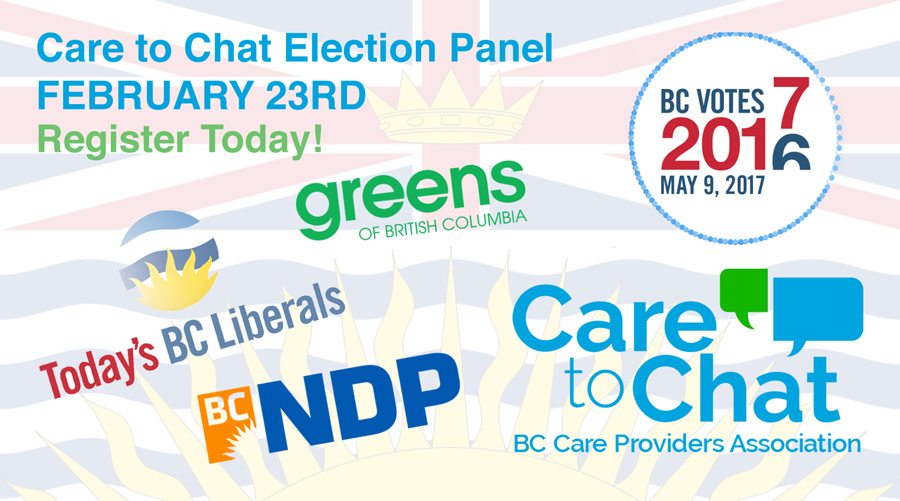 Announcing Care to Chat Election Panel—coming February 23rd
The next BC Provincial election is being held on May 9, 2017, and the issue of seniors care will no doubt be top of mind for our political leaders. With an ageing population as the backdrop, the BCCPA is hosting a special Election 2017 Edition of our popular Care to Chat series. We've invite candidates from all the major political parties to discuss what their party will do to support seniors if they are elected to form government next spring. What innovations are they proposing or willing to support? Will they increase funding? Are they prepared to transfer resources from acute care to the community? Do they agree we are doing enough to deal with the issue of dementia?
Judy Darcy, MLA for New Westminster and the NDP's Health Critic, has confirmed her attendance. We have also extended an invitation to the BC Liberals and the BC Green Party and are awaiting confirmation as to who will be participating on their behalf. The moderators for this special event will be veteran reporters Paul Johnson, Global BC news and Jeff Lee, Vancouver Sun.
In September 2015 the BCCPA hosted our first-ever Care to Chat federal election debate which was held in Surrey at Elim Village. Over 300 guests attended the event which included candidates from the Liberals, Conservatives, NDP and Green parties.
Join us for one of the first scheduled political debates of the campaign season! Tickets are going to go fast…so if you want to attend, be sure to register early.
When:     Thursday, February 23rd
Where:    Terminal City Club, Vancouver
Time:       11:30 am – 2:00 pm

Title Sponsor

Gold Sponsor

Silver Sponsors