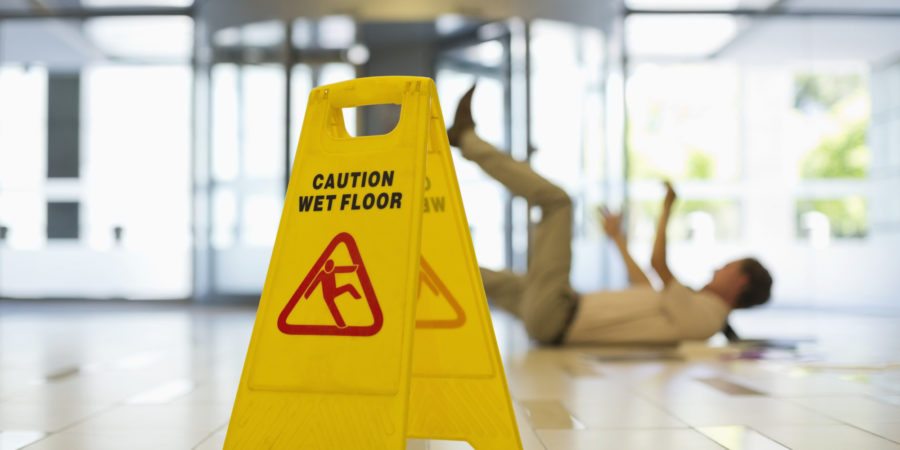 As part of its annual Be Care Aware campaign, SafeCare BC released new injury report data for BC's Long Term Care sector. Compiled by WorkSafeBC, the statistics capture the size of the sector by payroll, 2015 injury rates and total claim costs.
BC Care Providers played an integral part in the establishment of SafeCare BC, which began in 2013 by long-term care employers and WorkSafe BC as a strategic collaboration with unions and other key stakeholders to reduce injury rates in the sector by providing ongoing training opportunities for workers, promoting best practices and initiating education and awareness initiatives.  WorkSafe BC has identified the long-term care sector as 'high-risk' with injury rates traditionally over four times the provincial average.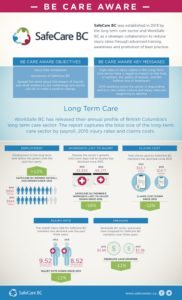 According to the new statistics, employment in the long-term care sector has grown by approximately 15% over the past four years – to a total payroll of $1.5 billion in 2015 from $1.3 billion in 2012.  SafeCare BC members represent 63% of the sector's payroll. Since then, the sector's overall injury rate has declined by 8% – from 9.7 time-loss claims per 100 workers in 2012 to 8.9 in 2015.  For SafeCare BC members, the overall injury rate has dropped 11% – from 9.52 in 2012 to 8.52 in 2015.  WorkSafe BC sector premiums have also dropped for employers by 11% over three years – from $2.66 in 2015 to a 2017 projected rate of $2.36.
"While these new statistics represents some positive developments, injury rates remain too high and much more work needs to be done, particularly related to return-to-work rates and preventing acts of violence which now account for 15.3% of all accident types," said SafeCare BC Executive Director David Hurford.
For SafeCare BC's long-term care members:
•    the total payroll has increased by 12% – from $844 million in 2012 to $948 million in 2015
•    total workdays lost to injuries has declined by 16% – from 81,522 in 2012 to 69,177 in 2015
•    claims costs have gone down by 12% – from $16.7 million in 2012 to $14.7 million in 2015
•    total number of time loss claims has gone down by 5% – from 1896 in 2012 to 1802 in 2015
"In collaboration with our key partners, SafeCare BC will continue to develop and deliver a full suite of training, education and awareness programs that respond to the real needs of care aides, managers, nurses and other staff," concluded Hurford. "This work will continue to reflect feedback received from employers and front line staff and be expanded in 2017 to include the growing home support sector."
For a summary of other facts about long term care injury rates, click here.