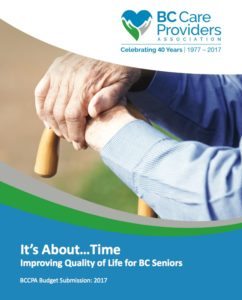 Today we are releasing our BCCPA Budget 2017 Submission to the Select Standing Committee on Finance and Government Services.
You are able to download a copy of our BCCPA 2017 Budget Submission by clicking the thumbnail image of the report cover.
Each year BC's Select Standing Committee on Finance and Government Services holds annual province-wide public consultations on the next provincial budget, which is announced in February 2017. Last week, BC Care Providers submitted its own comprehensive set of recommendations to the Standing Committee. They fall under seven categories:
Shifting Resources from Acute to Home and Community Care;
Increasing Direct Care Hours (DCH);
Increasing Openness and Transparency;
Improving Quality of Life for seniors;
Improving Sustainability and Accountability;
Health Human Resources (HHR); and
Federal funding for Seniors Care
Over the next few months leading up to the release of BC Budget 2017 we will continue to communicate with our members and with the BC government as to why these recommendations are achievable, practical and necessary for the well-being of British Columbian families.