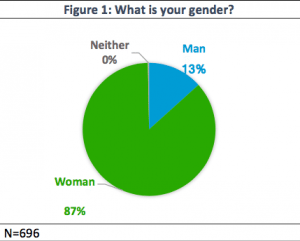 Beginning Tuesday morning watch bccare.ca for a series of posts outlining the results of our public consultation survey on seniors care. The team at BC Care Providers Association are pleased with the strong response to this volunteer survey. Not only did we receive an enormous number of responses for an online survey conducted over the summer months (754), the completion rate was also exceptionally high at 94 percent.
The online survey is not meant to serve as an impartial poll like one conducted by a third party professional. Instead, the seniors survey is meant to provide a snapshot of the public's interest and understanding of issues laid out by two major white papers focusing on the future of Seniors' Care British Columbia.
The first paper focused on issues of funding, including issues such as long-term care insurance, and the potential use of vouchers ("care credit") to allocate public subsidies, among other concepts. The second paper focused on innovations, including new care models for seniors, improving dementia care, effective use of technology, and enhancing the health, safety and well-being of seniors.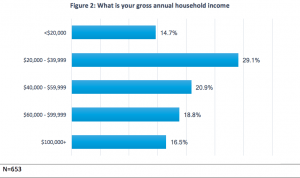 Following the release of these two major white papers, the BCCPA conducted a public consultation survey focused on obtaining feedback regarding the options outlined in the White Paper. The online survey collected results from the public for eight weeks over the summer of 2016, promoted through online advertisements on Facebook and Twitter, as well as through the BCCPA website. The survey received over 750 responses, 56% of which were seniors over the age of 65.
Full results and an explanation of the survey's methodology are detailed in the body of the report we will release this week.
Survey Respondent Demographics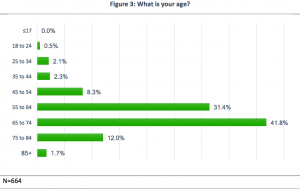 Over 750 people took the survey over two months in July and August, 2016. Ultimately completion rates were high at 94%. The demographics of survey respondents breaks down as follows:
The majority of respondents were women at 87%.
While respondents from all age rages were represented, the most common age brackets were 65 to 74 (at 42%), and 55 to 64 (at 31%) respectively.
Respondents from all income brackets were represented, though the most common was $20,000 – $39,999; likely reflecting the fact that the survey population was largely composed of older adults, who may be retired and on fixed incomes.