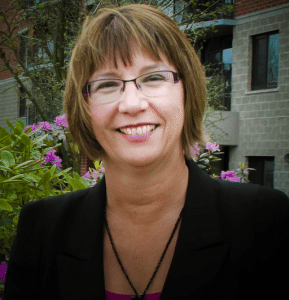 To become more familiar with BC Care Providers Association and the people who govern the organization, we are asking them to share a little bit about themselves. Today we feature our board president, Karen Baillie, chief executive officer at Menno Place.
Where were you born and raised?
Unlike most Vancouverites I was actually born there! In fact, I was born in St. Vincent's Hospital where I also ended up working. I used to kid that I had either come full circle or hadn't made it anyway in life while I worked there.
St. Vincent's only had maternity for about 3 years in the 50's before Grace Hospital opened so you can guess peoples' ages if you know they were born there.
What is your fondest memory of Vancouver?
Having lived there for almost 60 years I have many. Probably walking my dogs along MacDonald beach.
What has been your most favourite travel destination?
So far, I would say New Zealand. I found it to be a cross between BC and Hawaii with gorgeous white sand beaches and surf, yet rolling hills of green with cows, sheep and pigs. I loved the rivers and the 1200 yr old kauri trees too.
What is the favourite part of the work you do?
I love the hugs I get from the seniors I have the privilege to serve.
What is your favourite movie?
The Sound of Music – I love to sing and also to be in the mountains…my soul soars when I hear the music of that movie.
What motivates you to support the work of the BC Care Providers Association?
After serving seniors in Residential Care for 35 years I truly believe I have a responsibility to give back to the sector as I have learned so much from the seniors, their families and the staff I have served with. If I can make a difference to one person's care journey I will leave a legacy that will make me smile. I truly believe that my life's work as a nurse has been a calling that the Lord has given me the honour to fulfill.
What is the accomplishment you are most proud of?
I have had the privilege to mentor many people during my career. My most proud accomplishment is enabling the first care aide I hired – a single mom at the time – to become a nurse and eventually to become a leader in long term care. She now leads a number of organizations. My belief in her potential was all she needed to succeed in life.