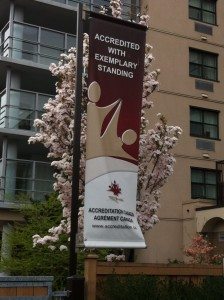 Langley Lodge has achieved the top honors of Accreditation with Exemplary Standing in a recent decision by Accreditation Canada.  The local Residential Care operator "has gone beyond the requirements of the Qmentum accreditation program and demonstrates excellence in quality improvement", according to a report by the Accreditation Canada Decision Committee.
Accreditation is an ongoing process of evaluating and recognizing a program or service as meeting established, national standards. As part of the program, Langley Lodge conducted an extensive self-assessment to determine to what extent they are meeting the Accreditation Canada standards, and make changes to areas that need improvement. In May, two Accreditation Canada surveyors spent two and one-half days inside the organization's campus speaking to staff, residents, families and community stakeholders, and extensively reviewed the processes and practices of the services offered to Langley Lodge's elderly residents.
"This is the result of four years of integrated quality improvement work, involving frequent, structured assessment processes, ongoing measurement of progress and achievement of our goals by our entire Langley Lodge team",  said Debra Hauptman, Chief Executive Officer at Langley Lodge.
"We are proud to be a leader in the care of the elderly in our community and to continue to serve our region with the formal recognition of our standard of excellence." said Jeremy Sutton, President of the Board of Directors of Langley Care Society. "Achieving the highest rating is a testament to the dedication and effort made by everyone associated with the Lodge."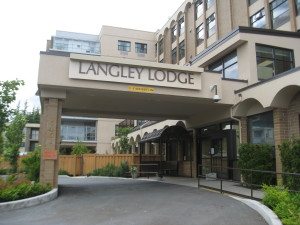 Leslee Thompson, CEO of Accreditation Canada stated, "On behalf of Accreditation Canada's board and staff, I extend my sincerest congratulations to your board, your leadership team, and everyone at your organization. Thank you for your leadership and for demonstrating your ongoing commitment to quality by integrating accreditation into your improvement program".
Accreditation Canada is an independent, not-for-profit organization that sets standards for quality and safety in health care and accredits health organizations in Canada and around the world.  Langley Lodge is the only residential care home in Langley that has achieved Exemplary Standing.
"On behalf of Langley City Council, we congratulate the Langley Lodge on this momentous achievement," said Mayor Ted Schaffer, City of Langley. "Being awarded Accreditation with Exemplary Standing from Accreditation Canada is a proud moment for any organization, and we are overjoyed that the Langley Lodge, an active contributor to our community, has received this honourable award."
Langley Care Society is a non-profit long-term care provider, which operates Langley Lodge residential care home. The society was incorporated in 1974. 139 residents reside in Langley Lodge, and receive 24 hour, professional complex care services. The society believes in a holistic approach and resident and family centered philosophy. The organization was voted "Best Residential Care Operator" by local citizens in 2015.
Click here to view the Accredimap of accredited sites throughout Canada.