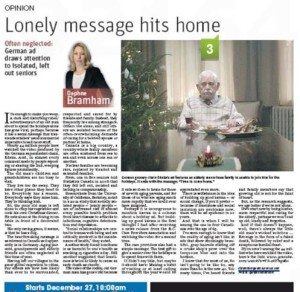 On Monday, Dec. 22 the BC Care Providers Association issued a media release regarding the important need to visit a loved one receiving care during the holiday season.
There was tremendous province-wide media interest regarding the issue of visiting a loved one receiving care during the holidays.
Daphne Bramham struck a chord with a number of her readers with a great opinion piece published on Boxing Day. Here is an excerpt:
The video of the lonely, old German man has gone viral because it cuts so close to home for those of us with aging parents, and for those of us who are aging much more rapidly that we could ever have imagined.

Perhaps it is incongruous to mention karma in a column about a holiday ad. But building up good karma is the first thought I had after receiving a news release from the B.C. Care Providers Association and watching the video for a second time.

The care providers also had a simple message: The best gift to give a senior over the holidays is to spend time with them.

It didn't say this, but maybe it should have: Making a habit of visiting or at least calling throughout the year would be appreciated even more.

There is selfishness in the idea of building up good karma — or social change, if you'd prefer — because if loneliness and social isolation are problems now, there will be an epidemic in 20 years.
To read a copy of our media release click here. To read a copy of an opinion piece published on this topic by Michael Kary, Director of Policy and Research, please click here. View the video referred to by Bramham in her opinion piece, by clicking the link below: