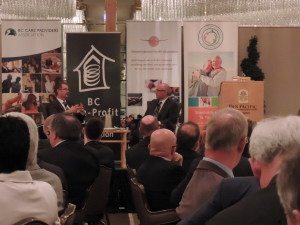 Time is running out to register for the 3rd Annual Minister's Luncheon at the Pan Pacific Hotel in downtown Vancouver, featuring the Hon. Terry Lake, B.C.'s Minister of Health. The BC Care Providers Association is co-hosting the event which takes place on Wednesday, Oct.14th and will be an opportunity for the Minister to speak directly to the continuing care sector in B.C. This event will be jointly held with the BC Seniors Living Association, the Denominational Health Association and the BC Non-Profit Housing Association. The event will once again include a "fireside chat" Q&A session between the Minister and Daniel Fontaine, CEO for the BCCPA.
Details:
Date: Wednesday, October 14th, 2015
Location: Pan Pacific Hotel – Crystal Pavillion 
"We're grateful Minister Lake will be joining us for what has quickly become the 'can't miss' event of the year for our sector," says Daniel Fontaine, CEO for the BCCPA. "Last year the Minister took this opportunity to make a special announcement about the review of BC's troubled Care Aide Registry and invite us to participate in an important dialogue on the future of seniors care."
"This is also the third year in a row that McKesson has partnered with the BCCPA to sponsor this marquee event," said Fontaine. "It's great to see them demonstrate this type of commitment to our sector and our Association."
Over 400 people were in attendance at our sold out event in 2014. You'll want to buy your tickets early to ensure you don't miss out on this great networking and dialogue opportunity."
About the Minister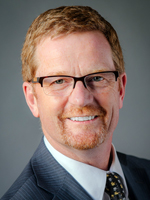 Terry Lake was re-elected as MLA for Kamloops-North Thompson on May 14, 2013. He was appointed Minister of Health on June 10, 2013.
Terry currently chairs the Cabinet Committee on Secure Tomorrow, serves as vice-chair of the Treasury Board, and is a member of the Cabinet Working Group on Core Review.
Previously, he served as Minister of Environment. He also enjoyed stints as Parliamentary Secretary for Health Promotion to the Minister of Health Services, and Parliamentary Secretary for the Ranching Task Force to the Minister of Agriculture and Lands.
Terry has also served on the Select Standing Committees for Aboriginal Affairs, Health, and Legislative Initiatives. He was also a member of the Early Childhood Education Innovations Committee.
Terry was the Mayor of Kamloops from 2005-2008, and a city councillor from 2002-2005. He is a former Vice-President of the Union of BC Municipalities, and a former member of the BC Transit Board of Directors.
He is a former President of the Coquitlam Rotary Club as well as the Kamloops Recreational Soccer League. One of his most rewarding experiences was travelling to Tangalle, Sri Lanka in 2008 to assist with tsunami relief.
A veterinarian by profession, Terry is a recipient of the BC Veterinary Medical Association Award of Merit for Service and is a former Vice-President of the World Small Animal Veterinary Association.
Terry and his wife Lisa have three daughters, a dog and a cat.
Hosted by:
Generously Sponsored by: