The 2015 BCCPA Annual Conference took place from May 24th-26th in Whistler, BC. The event attracted over 450 care providers, government officials, MLAs, and industry stakeholders who heard from an impressive list of over 60 speakers and participated in 24 thought-provoking workshops as well as an expanded Exhibitor Marketplace.
Thank you to all those who attended. See below for post-conference resources, slides, and photos.
Sustainability Through Innovation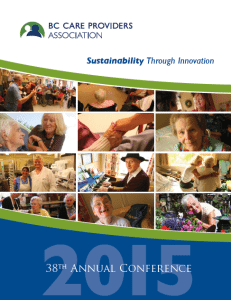 The theme of the Annual Conference was 'Sustainability through Innovation' and showcased innovative practices and initiatives within the continuing care sector that are improving the sustainability of the health system as well as the quality of care provided to seniors.  Along with addressing a wide variety of topics in the areas of residential care, home care, safety and faith-based care, the conference brought together a diverse array of speakers to address the demographic issues facing BC's continuing care sector, as well as, present potential solutions and practices to better meet these challenges.
Conference Agenda
Click here for a PDF version of the 2015 Annual Conference agenda.
Photo Album
 To view full album, click here!
Speaker Notes and Presentation
We are pleased to offer digital access to a number of slides and presentations from the conference. Simply click the session name for slides and power-point presentations.
[accordion clicktoclose="true"]
[accordion-item title="Patricia Porterfield: Resources for the Integration of Long Term Care and Palliative Care"]
Plenary B: Revisiting End-of-Life in Canada
 Abstract: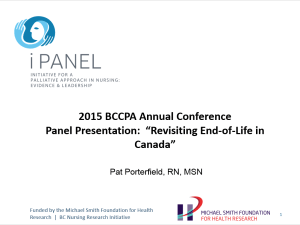 By 2026, with the aging population, the number of Canadians dying each year will increase by 40 percent to 330,000 people. Each of these deaths will affect the well-being of an average of five other people, including families and loved ones, or in excess of 1.6 million.
With the increasing importance palliative and end-of-life care including the recent Supreme Court of Canada decision on this issue, this plenary moderated by Elaine Price, BCCPA Board Vice President, will address these critical issues facing Canadians.
Along with exploring various issues related to end of life, this panel will review the current state of palliative care across Canada and how  the system and society should look at end of life in general. Panelists will also discuss topics such as the need for a national strategy on end-of-life care as well as strategies to improve the integration of long-term and palliative care.
Patricia Porterfield, Adjunct Professor, UBC School of Nursing and former Regional Leader for Palliative Care (VCH)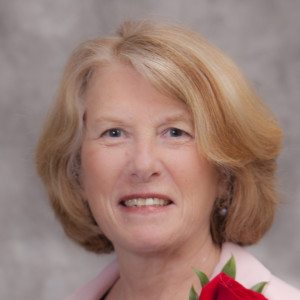 Pat Porterfield, RN, M.S.N., Clinical Nurse Specialist in Palliative Care, has been involved with palliative care practice, education and research throughout her career.  Although retired, she remains active as a researcher, through her participation in the Initiative for a Palliative Approach in Nursing: Evidence and Leadership (www.iPANEL.ca). In her previous role as Regional Leader Palliative Care for Vancouver Coastal Health, she was involved in a number of initiatives including the development of advance care planning and end-of-life care education for primary care and residential care providers. She has served on the boards of BC Hospice Palliative Care Association (BCHPCA) and Canadian Hospice Palliative Care Association (CHPCA), and participated in the development of the national palliative care standards. She was recognized for her work by receiving the 2012 BCHPCA Award of Excellence, the 2012 CHPCA Award of Excellence, and a College of Registered Nurses of BC Award of Distinction in 2013.
[/accordion-item]
[accordion clicktoclose="true"]
[accordion-item title="WorkSafeBC Inspections – What to Expect "]
Abstract: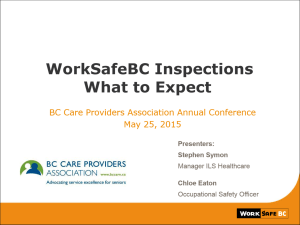 In 2013 workers working in long-term care facilities were injured more often than any other workers in any sector in British Columbia. Over 2,900 long-term care workers were injured and were collecting compensation benefits from WorkSafeBC that year.
Each year WorkSafeBC implements a High Risk Strategy which identifies sectors with a high risk of workplace injury. The strategy focuses prevention initiatives on identified areas of high risk in order to apply resources and effort where they will be most effective. In 2015 WorkSafeBC's High Risk Strategy determined that employers and workplaces in the long-term care sector would be inspected by Prevention Officers as they are considered high risk workplaces.
Interactions between health care workers and residents pose the greatest risk of injury from the following hazards, including musculoskeletal injuries (52%), acts of violence or force (12%) and slips, trips and falls (12%). The primary focus of the strategy will be on the occupations providing direct resident care (health care assistants, licensed practical nurses and registered nurses) and on the interactions between the health care worker and the residents. Prevention Officers will apply a point of care inspectional process to aid in identifying these hazards.
By attending this session you will learn about Point of Care inspections being conducted by Prevention Officers in long-term care facilities and what to expect if an officer shows up at your facility. WorkSafeBC resources you can use to help improve the safety of your workplace will also be reviewed.
Speaker(s)
Stephen Symon, Manager Industry & Labour Services, Health Care, Social Services and Education; WorkSafeBC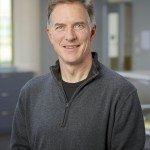 For over 25 years Stephen has worked in the capacity of researching, developing and delivering programs to improve the health, safety and well-being of workers. The primary focus for the 20 plus years has been on worker health and safety in the health care sector. Stephen has a B.Sc. and M.Sc. in human physiology and biomechanics with additional training in disability management, occupational health and safety and ergonomics.
For the past 15 years Stephen has been with WorkSafeBC and currently is in the role of Manager Industry and Labour Services focusing on injury prevention and return to work through a consultative and educational approach with health care employers and workers.
Most importantly Stephen is the father of two wonderful children, both girls, and the whole family enjoys anything and everything that gets them outdoors.
Chloe Eaton, Occupational Safety Officer Vancouver South, Richmond & Delta; WorkSafeBC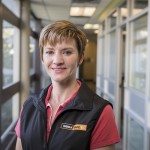 Chloe Eaton joined WorkSafeBC as an Ergonomist in 2005 and is a Canadian Certified Professional Ergonomist (CCPE). As an Ergonomist with WorkSafeBC, Chloe worked in the construction, healthcare, and manufacturing sectors. Her work with the health care industry included the development of publications relating to patient handling and providing feedback on the Provincial Safe Resident Handling Standards for Musculoskeletal Injury Prevention in BC. In 2013, Chloe changed roles and became an Occupational Safety Officer, inspecting the health care and social services sectors. Her education background includes a BSc. in Kinesiology from Simon Fraser University and a MSc. in Ergonomics from Loughborough University in the United Kingdom.
[/accordion-item]
[accordion-item title="Public Reporting: Know Your Story, Tell Your Story"]
Abstract: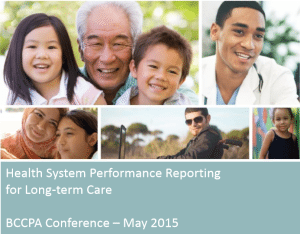 In June 2015, CIHI will include facility-level results of nine indicators for long-term care (LTC) homes on its public health system performance website, YourHealthSystem.cihi.ca. Results are derived from RAI-MDS 2.0 data and will enable comparison of BC's residential care facilities' performance with other Canadian facilities across the same indicators. While Your Health System.cihi.ca is primarily intended to support decision-making by healthcare planners, policy-makers and facility operators for both publicly-funded and subsidized services, its secondary purpose is to promote transparency and accountability. As such, it is accessible to anyone. This release represents the first pan-Canadian public reporting of facility-level LTC results, and significant interest from both the public and media is anticipated. In an age of increasing consumer expectation and media awareness, facility operators and funders alike need to be able to understand, explain, and act upon publicly reported performance information about their facilities.
 
 
The session will provide a detailed look at the long-term care information that will be available on CIHI's website. It will outline what support and materials are available to assist operators and funders with understanding and interpreting their results. It will also explore strategies for meaningful and constructive communication with the public and media. Dave Cheperdak, President of the Board of the BCCPA, and CEO of Broadmead Care, has agreed to participate in the session and allow CIHI to share Broadmead Care's results as part of the discussion.
 
Speaker(s)
Connie Paris, Manager, Home & Continuing Care Data Management, Canadian Institute for Health Information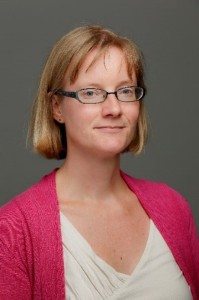 Connie has been with the Canadian Institute for Health Information since 2004. In that time, she has worked with a number of reporting systems, including Inpatient Rehabilitation, Inpatient and Community Mental Health, as well as Home and Continuing Care. She has had the privilege of working closely with submitting organizations in her eleven years at CIHI, and has witnessed these healthcare sectors not only meet the challenge of collecting standardized, comparable information, but evolve and improve through the use of that information.
In her most recent role as Manager of Data Management for the Home and Continuing Care Reporting Systems, she has been very much involved in the planning and preparation for the inclusion of long-term care data on CIHI's new public reporting website. In a previous life, Connie trained and worked as a Physiotherapist in a number of areas of healthcare in both Canada and the US.
 
[/accordion-item]
[accordion-item title="Canada's first Community Care Licensing Officer Training Program: Protecting Persons in Care"]
Abstract
Appropriate adherence to the residential care regulations is an essential component of supporting the care of seniors in BC.  This session will provide context to the implementation of regulations, and address how compliance with the regulations supports the work of BC Care Providers.
As a direct result of recommendations made in the Carter Report The Best of Care: Getting it Right for Seniors in British Columbia (Part 2) in 2008, the Ministry of Health and the Ministry of Advanced Education in BC collaborated to support the development of Canada's first post-secondary training program for licensing officers.  The Advanced Specialty Certificate in Community Care Licensing program was launched by the JIBC in fall 2013.
Participants will learn about how training provided in the Advanced Specialty Certificate in Community Care Licensing supports the consistent enforcement of the residential care regulations to protect the health, safety and dignity of the most vulnerable members of our society and how this training can assist managers and care providers in their day-to-day work.
Sue Bedford, Director, Community Care Facility Licensing, Quality Assurance Ministry of Health, British Columbia
Sue Bedford has been working in the field of Community Care Licensing since the mid 1990's.  She has worked as a contractor, a front-line licensing officer, and has been with the Ministry of Health for many years.  She is presently the Director, Community Care Facility Licensing, with responsibility for both adult residential care and child day care.  Sue has a BA and MA in Political Science from the University of Victoria, with a focus on public policy for vulnerable populations.
Deborah Richards, Program Director, Health Sciences Division School of Health, Community and Social Justice, Justice Institute of BC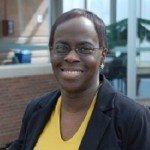 Deborah Richards is a Program Director in the JIBC's School of Health, Community and Social Justice with responsibility for the delivery of the new Advanced Specialty Certificate in Community Care Licensing, and the Diploma in Health Sciences – Emergency Medical Services programs, as well as short continuing medical education courses, and contract courses for major national and international clients. Deborah has worked in adult education for 20 years. Deborah has a BA from Mt. St. Vincent University and an MEd from University of Victoria.
[/accordion-item]
[accordion-item title="A Year in Review – Highlights and Lowlights of Labour and Employment Law"]
Abstract: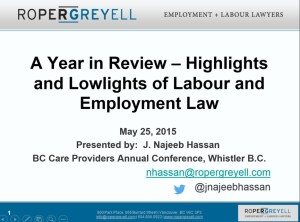 Najeeb Hassan and Delayne Sartison, Q.C. both partners at Roper Greyell, the premiere labour and employment law firm in Western Canada, will present a fast-paced, entertaining look at important and relevant employment and labour decisions issued over the past year, with a particular focus on healthcare operations. Designed to give participants up to date information in a fun, informative manner, attendees responsible for managing one of the largest cost drivers of residential care and home care operations will leave this session well-armed to avoid the pitfalls of employee management.
Speaker(s)
Najeeb Hassan, Lawyer, Roper Greyell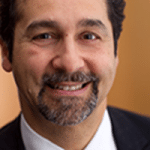 Najeeb joined Roper Greyell in 2014, bringing a wealth of knowledge and experience having formerly been a senior partner in the labour and employment group at one of Canada's largest national law firms. His legal career also includes serving as Vice-Chair of the BC Labour Relations Board and holding several senior positions with the Health Employers Association of BC, where he provided hands-on labour relations advice to its members, many of whom are BC Care Providers Association members.
Najeeb has assisted both union and non-union employers to avoid and resolve difficult legal and human resource challenges. He has extensive experience as counsel in certification and decertification of unions, grievance and interest arbitrations, collective bargaining, managing strikes and essential service disputes, unfair labour practice complaints and other applications under the Labour Relations Code. Najeeb also provides exceptional representation in the area of disability management, worker's compensation, human rights and wrongful dismissal claims.
[/accordion-item]
[accordion-item title="Creating a Change Platform: Quality Improvement in Residential Care "Safer Care for Older Persons (in residential) Environments"]
Abstract: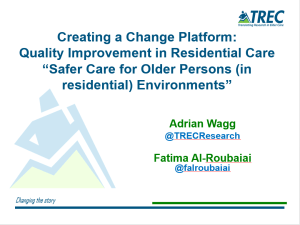 Safer Care for Older Persons (in residential) Environments (SCOPE) is an improvement initiative (under the umbrella of Translating Research in Elder Care (TREC) at the University of Alberta, which will support 40 residential care homes to improve care for residents starting in March 2015.  The SCOPE quality improvement project is an innovative way to look at quality improvement in that it addresses the missing component in traditional approaches to quality improvement by focusing on frontline care providers in long-term care facilities:  the HealthCare Aides.  Healthcare Aides provide 80% of care in nursing homes and have extensive and untapped tacit knowledge of best practices within their work environment.  Allowing them to lead quality improvement teams should enhanced their quality of work life as well as patient care.  In addition, applying the lens of complexity science with the Break-Through Series Collaborative model (from the Institute of Healthcare Improvement) through concepts such as positive deviance and liberating structures will be a fundamental supplement to the traditional improvement PDSA tool.  This workshop will aim to share with you the tools and approaches that will be integral to the initiative.  Come and learn methods such as liberating structures and social movement.  You will learn how to support the positive deviants in your organization and you will be able to run a TRIZ exercise to get meaningful staff engagement.
Dr. Adrian Wagg, Professor of Health Ageing at University of Alberta, Medical Director Seniors, Alberta Health Services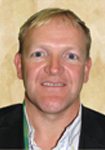 Dr. Adrian Wagg MB BS FRCP FHEA qualified from the London Hospital Medical College in 1988. He trained in General and Geriatric Medicine in and around London and was appointed as a senior lecturer and consultant in General Internal and Geriatric Medicine to University College London Hospitals in 1997. In 2010 he was appointed as Professor of Healthy Ageing and Divisional Director for Geriatric Medicine at the U of A in medication and co-morbidity on continence status and the epidemiology and etiology of incontinence in the elderly.  He has an academic and clinical interest in urinary incontinence and has published many peer reviewed publications, chapters and reviews on the subject, spoken widely and is nationally and internationally recognized. His interests are in incontinence in the elderly, the effects of medication and co-morbidity on continence status and the epidemiology and etiology of incontinence in the elderly.  He was Associate Director of the Clinical Effectiveness and Evaluation Unit of the Royal College of Physicians, where he led the continence in older people program and the national audit of continence care. He is Chairman of the Frail Elderly Committee for the International Consultation on Incontinence and trustee of the International Continence Society.
Fatima is a Regional Quality Advisor for SCOPE, Safer Care for Older Persons (in residential) Environments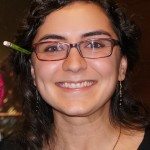 Fatima began her nursing career in Medicine and Oncology before finding a place in the Quality Improvement world. She believes that adaptive leadership and engaging staff are key ingredients in the recipe for continuous improvement. "The saying goes – devil's in the details – and who knows the details better than front-line staff!"
Fatima has led several wide-scale projects in Acute Care and is now dedicated to applying her skills to Residential Care.[/accordion-item]
[accordion-item title="Safety in Our DNA: How Organizational Culture is harnessed to Create Safer Work Environments  "]
Abstract: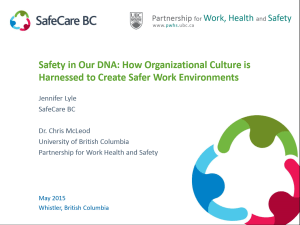 Addressing workplace safety is a complex and multi-faceted issue. Improving one's safety record therefore requires a holistic approach that stretches beyond just staff education and equipment purchases. Research into other areas of safety both within and outside of the healthcare industry have identified that so-called "high performing" organizations share common characteristics; specifically, they tend to demonstrate excellence in key areas relating to communication, interdisciplinary collaboration, learning, incident reporting, and management commitment to safety. In the literature, the presence of these elements has been loosely defined as having a "safety culture".
Initiatives centred on creating a safety culture with respect to patient care have shown great promise. A cross-sectional analysis of 91 hospitals by Singer et al. (2009) demonstrated a positive link between an organization's safety culture score and fewer adverse events and patient outcomes. An analysis of 179 hospitals by Mardon et al. (2010) found that organizations who scored higher on safety culture indices had lower rates of in-hospital complications and adverse events.
What can the continuing care sector learn from these examples to create safer work environments for its workforce? This session will endeavour to define safety culture in a healthcare context and explore the characteristics of organizations that lead to the development of such a culture. In addition, attendees will learn about real-life examples of organizations in the healthcare industry that have already implemented these practices and the ensuing impact on workplace safety as a result.
Jennifer Lyle, Executive Director, SafeCare BC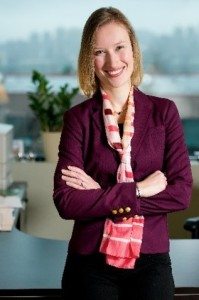 Jennifer Lyle is the executive director of the provincial long term care health and safety association, SafeCare BC. Prior to coming on board with SafeCare BC, Jennifer worked in a dual role as a healthcare practitioner and the Director of Operations for a Burnaby-based rehabilitation organization after graduating from Simon Fraser University with a Bachelor of Science degree. She later obtained her Master of Health Administration at the University of British Columbia.
In addition to her studies, Jennifer has collaborated on research initiatives exploring the impact of care environments on elderly patients and care providers. She also sits on the board of directors for the British Columbia Association of Kinesiologists.
Jennifer is a strong advocate of a holistic approach to healthcare, and believes that creating positive, healthy environments for both providers and clients is key to effective, quality care. Out of the office, you can find Jennifer hiking and mountaineering in the backcountry.
Dr. Chris McLeod, Assistant professor in the School of Population and Public Health at the University of British Columbia (UBC).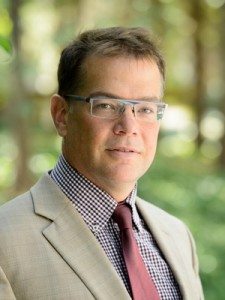 Dr. Chris McLeod is an assistant professor in the School of Population and Public Health at the University of British Columbia (UBC), an associate scientist at the Institute for Work & Health in Toronto, and the co-research lead of the Partnership for Work, Health and Safety, also at UBC. His research focuses on the program and policy evaluation of occupational health policies and practices and on the causes and consequences of work-related injury and disease. He is currently conducting a study in the BC long-term care sector to establish a set of leading health and safety indicators that organizations can use to assess and improve their health and safety performance. He is also conducting a study on violence in the health care sector to establish leading and lagging indicators for use in evaluating workplace violence prevention programs. Other current areas of research include an assessment of the effectiveness of occupational health and safety management systems on work injury; an examination of the etiology and outcomes of serious work-related injury; and national and international comparative work within Canada and with Australia and New Zealand. Dr. McLeod holds a PhD in population and public health from UBC and a MA in economics from McMaster University.[/accordion-item][accordion-item title="Music for Living – Concerts in Care"]
Abstract: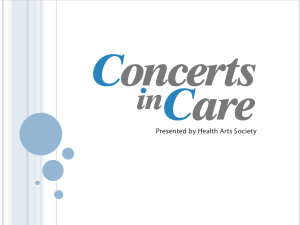 The presentation will expand on the value of the program to residents in terms of quality and enjoyment, and will demonstrate its effectiveness in operation. We have the advantage of nine years' experience, but even with a list of 72 client homes we still rank as innovative in relation to the potential for delivery to the sector.
Health Arts Society's Concerts in Care program helps leaders to establish their homes as among those offering high-quality interventions to the lives of residents. It is widely understood now that the model for late-life living is focused on the enjoyment of life even though at some stage significant healthcare interventions may be required. These are no longer deemed enough to satisfy the resident clients, and the expectations of the forthcoming wave of boomers into retirement and residential care homes will transform the sector. Sustainability has at least two facets. One is that homes must find ways to provide high-value service, and the other is that they must operate efficiently.
The presentation will expand on both aspects, demonstrating the virtue of introducing the concerts to the homes in terms of increasing the attractiveness of the home and providing multiple events efficiently. We will likely comment on the contributions required and the justification for them.
David Lemon, Founder of Concerts in Care, presented by Health Arts Societies nationally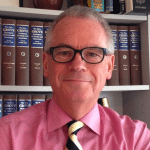 Health Arts Society was founded by its Executive and Artistic Director David Lemon in early 2006.  He brought to the programme experience developed in business, over a 35-year career in maritime insurance and in the arts, including as a member of the boards of Vancouver Opera, Vancouver Art Gallery, Ballet BC, Vancouver Bach Choir and Vancouver Symphony.
He initiated several music productions and commissioned a work for the opening of the Chan Centre at UBC from composer Sir Peter Maxwell Davies.  David Lemon owned The Magic Flute CD store in Kitsilano for twelve years, and created the Orpheum Masters CD label.  In 1996 he was awarded the Edmund C. Bovey Award for support of the arts by a person in business and was conferred a honourary degree by UBC in 1997.
[/accordion-item]
[accordion-item title="Becoming Dementia-Friendly: Creating positive sustainable change in the lives of people with dementia and our communities"]
Abstract:
A dementia-friendly community is a community focusing on stigma reduction and the meaningful inclusion of people with dementia. It understands people living with dementia and supports them in participating in activities to the fullest extent possible. In a dementia-friendly community, members are educated about dementia, and recognize that people living with dementia experience the world differently.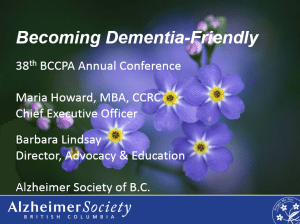 Working collaboratively with people living with dementia and their caregivers, the Alzheimer Society of B.C. has established a Dementia-Friendly Communities Initiative (DFCI) to support the professional sector and the general public to become 'dementia-friendly' through education and sharing of best practices. Everyone, from people living with dementia, their families, to healthcare providers, and https://bccare.ca/wp-content/uploads/2022/08/medcare-img22.jpgistration, can benefit from increased understanding, awareness and sense of community.
The Dementia-Friendly Communities Initiative is part of developing a sustainable cultural shift towards caring and communicating with people living with dementia in a dignified and respectful way. Innovating through education and collaboration, the DFCI is able to adjust to the needs of various communities – geographical, or groups with shared interests, such as professional groups, religious organizations or businesses. The DFCI provides these communities with the necessary tools to move towards inclusion, compassion, and stigma reduction.
This 60 minute interactive workshop will introduce the concept of dementia-friendly communities and their benefits, then offer participants the opportunity to brainstorm and identify ways in which their organizations can engage in becoming dementia-friendly. The Alzheimer Society of B.C. will provide resources to learn more about its programs and services, including Dementia Friends education, First Link® and healthcare provider education.
Maria Howard, CEO of the Alzheimer Society of B.C.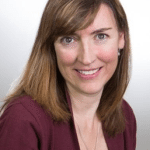 Maria Howard is the CEO of the Alzheimer Society of B.C. She is a dynamic and strategic thinker with both provincial and national board governance experience. Her decades of leadership in the health-care sector and commitment to operational excellence fit with the Society's ambitious goals — goals that have grown out of the increasing number of people who face a dementia diagnosis in B.C.
Maria lives in Vancouver with her husband and two children and enjoys biking, swimming and spending time with her many pets.
Barbara Lindsay, Society's Director of Advocacy and Education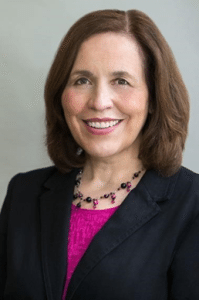 Barbara Lindsay has been with the Alzheimer Society of B.C. since 1997 and is currently the Society's Director of Advocacy and Education.
Her work with the Society involves planning, implementing and evaluating public policy and advocacy, and liaising with government agencies and regional health authorities. Her department is excited about their education initiatives: providing a comprehensive and evidence-based education curricula for people with dementia, families and caregivers; an education program for health care providers and the introduction of a Dementia-Friendly Communities program.  A lawyer whose passion is for people rather than paperwork, Barbara also assists Society staff in their work supporting people affected by dementia with their advocacy and legal planning, as well as being the Society's privacy officer.
Barbara is committed to ensuring the voices of people with dementia, caregivers and families are heard as we work towards transforming B.C.'s dementia system of care.
[/accordion-item]
[accordion-item title="Transforming Innovations into Quality Home Care Experiences: A panel discussion"]
Abstract: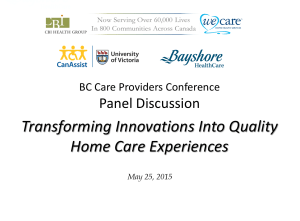 This session will be a panel discussion with representatives from the University of Victoria, Bayshore HealthCare, and WeCare to discuss various innovations in the home care sector that are improving quality of care for seniors.  Specifically, the presentation will highlight the work by the CanAssist Department at the University of Victoria, which is doing research and looking into new innovations in technology to assist seniors in the community. This presentation will also offer a brief overview of how Bayshore's investment and innovation through it's Epsilon™ platform is meeting the evolving needs of various stakeholders, and helping transform the sector while providing more for less.  Lastly, it will showcase We Care's Remote monitoring and virtual care technology in patient care for both healthy ageing and restorative care. The presentation will focus on current state and outcomes, future states, and how remote monitoring can be incorporated into various care plan packages to assist with wound care, medication compliance, delegated tasks and 24/7 support for the patient, professional caregiver and family caregiver.
Ron Duffell, Operations and support, CanAssist Program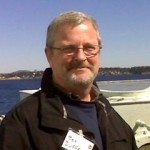 With an enduring interest in public policy, Ron has focused on the improvement and transformation of public services, and developing strong partnerships with stakeholders and cross-government agencies. Ron has an understanding of what's involved in working within communities and leading the decision-making processes in government and has worked on many complex projects to improve: governance and funding, program design, business processes, legislation, and policy for public sector organizations.
Examples of Ron's work include: health system regionalization; consultations and development of legislation and regulations in community care and assisted living, drinking water, food safety and public health; clinical supervision; regional director of alcohol and drug programs; B.C.'s lead at federal, provincial and territorial health tables; most recently the oversight and implementation of Healthy Minds, Healthy People.
Ron began his career in nursing and has worked in a variety of acute and community settings, moving into health system https://bccare.ca/wp-content/uploads/2022/08/medcare-img22.jpgistration where he has held increasingly responsible positions in the B.C. Public Service. Recently retired, Ron works part time with CanAssist and volunteers as a member of the board of the James Bay Community Project. Ron holds an MA in organizational leadership and is a member of the Associate Faculty at Royal Roads University.
Poonam Jassi, Director of Operations for BC, We Care Home Health Services and CBI Health Group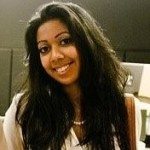 Poonam is the Director of Operations for British Columbia for We Care Home Health Services/CBI Health Group. Poonam has worked with We Care for the past 4 years in a variety of capacities ranging from marketing to customer experience and strategic programs. Her passion has always been in bringing innovations to home care, whether through the use of technology or transforming the way in which things are done. Whatever innovations are put in place, Poonam believes should always have the patient as the focal point. Poonam holds a Bachelor of Science from Simon Fraser University and a Masters of Business Administration from the University of Toronto
Leigh Popov, National Director of Information Systems, Bayshore HealthCare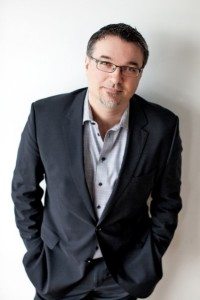 Leigh Popov is a career technology professional with over 20 years progressive experience in information and technology management.  With a diverse background in public and private sectors Leigh brings a customer-centric, value-based approach to business and systems design.  In his current role as Chief Information Officer at Bayshore HealthCare, Leigh is responsible for delivering vision and thought leadership in design, development, integration and support of all eHealth, mobility, https://bccare.ca/wp-content/uploads/2022/08/medcare-img22.jpgistrative and other business communication and information systems for one of Canada's largest home & community care, and specialty pharmaceutical service providers.  Leigh holds a Master's degree in Business Administration from Queen's University in Kingston (Ontario).
[/accordion-item]
[accordion-item title="Using Innovative Techniques to Make a $6 Per Day Food Allowance Into Nutritional & Tasty Meals: Panel Presentation"]
Abstract: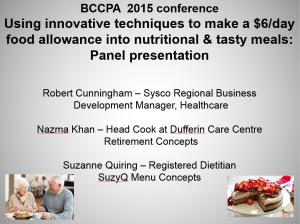 Food & dining are essential components for quality of life in Residential care, and often are the main focus of a resident's day. Therefore making the dining experience an amazing one for residents should be a primary goal for operators. Is $6 per day food allowance realistic for homes to actually deliver tasty and balanced meals to Residents, especially with rising prices and the shrinking Canadian dollar…or is it? As a panel with different expertise, we will clearly show you tried and true ways to stay on budget while enhancing the dining experience for residents, and still abiding by licensing regulations. From sourcing and planning advice, to preparation and production techniques, as well as showing you the major benefits with direct dining table service – which will all help your operation bring hot, flexible meals to residents, while stretching your food dollars. Our session will be interactive and practical, with facility examples and photos. Come be inspired to learn evidence-based, practical solutions that you can take back to your facility to help your operation stay on budget while providing resident-focused meal service.
Suzanne Quiring, Registered Dietitian with SuzyQ Menu Concepts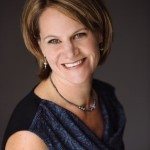 Suzanne Quiring is a Registered Dietitian with Dietitians of Canada, College of Dietitians of BC, Academy of Nutrition and Dietetics (ADA), CSNM, has her Continuing Care Administrator's diploma, and 20 years' experience in the Long Term Care food industry. Suzanne has personally worked in all areas of Residential Care – Assisted living, skilled nursing care, palliative care, dementia care, brain injury, and extended care – she has a strong understanding as to the practical challenges of providing great meal service to residents on a budget. In 2000, Suzanne invented the SuzyQ cart System, which is an improved way on "how" we typically do meal delivery in our LTC dining rooms that allows for more resident interaction & choice, hotter food and less food waste which saves significant dollars. To date, she has helped over 400+ Residential Care facilities through Canada & USA improve their meal delivery. She loves to share her experience on "how" meal service can be done as resident focused as possible, the culture change that is needed, and is a big supporter of the Eden Alternative and Pioneer Network organizations.
Robert Cunningham, Regional Business Development Manager, Healthcare, Western Canada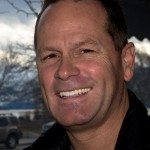 Robert Cunningham began his career in healthcare 35 years ago, cooking in a healthcare facility. He has worked in all aspects of the food industry, including manufacturing, restaurants, retail grocery and foodservice distribution. In 2001 Robert started with Sysco as National Corporate Sales Manager, then Director of Healthcare and Multi Unit sales. He has his Level 2 Sommelier Certification with the International Sommelier Guild and has been living in Kelowna for the past 5 years. Robert is very involved in the industry at all levels, including speaking at Seniors Conferences, a committee member for BCSLA Conference, member of the Culinary Arts Program Advisory Council for Okanagan College and member of the Okanagan Chefs Association. Robert enjoys spending time with his family and has 3 grown sons. He spends his free time hiking, golfing, paddle boarding and honing his sommelier skills entertaining friends at dinner parties. He is blessed to live in the Okanagan where "living local" is very easy to do.
Nazma Khan, Head Cook for Retirement Concepts at Dufferin Care Centre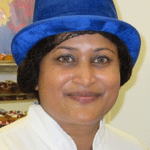 Nazma Khan's hospitality career started at a small café in Vancouver. She worked as a server in various restaurants while also doing retail inventory management. Khan also worked at the Boathouse Coal Harbour until it closed and was transferred to the Richmond Boathouse. Her career progression started from bus person to server and hostess, to kitchen worker to cook, while taking hospitality courses at Vancouver Community College.
Currently, she is the Head Cook for Retirement Concepts at Dufferin Care Centre where she started her Chef Apprenticeship in 2007.  Khan trains Cooks in-house and Chef's from other facilities on texture modified diets to meet the needs of long term care residents. Khan is responsible for developing menus and recipes, doing inventory control and ordering food and supplies to meet Dufferin Care Centre's budget.
[/accordion-item]
[accordion-item title="Clearer Thinking After CLeAR: How a Provincial Initiative Reduced Use of Antipsychotics in Residential Care Facilities"]
Abstract: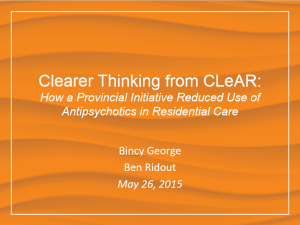 Established in 2013, the Call for Less Antipsychotics in Residential Care (CLeAR) initiative, facilitated by the BC Patient Safety & Quality Council, in partnership with the Shared Care Committee and a Partnership Alliance, sought to enhance the dignity of seniors with the behavioural and psychological symptoms of dementia (BPSD). More than 50 residential care facilities from across the province registered for direct support and worked collaboratively with partners to deliver individualized assessment and evidence-based care, leading to a reduction in the inappropriate use of antipsychotic medications.
The CLeAR initiative came to a close at the end of December 2014 and results from the initiative indicate a reduction in antipsychotic use and improved capability amongst participating facilities. Bincy George, the Director of Care at Windermere Care Centre where antipsychotic use was reduced by almost 50%, will share her site's experience and discuss key success factors for her team. One such factor was the establishment of an innovative medication review process, as well as implementing an inter-professional team approach with all departments involved, including non-clinical staff from maintenance and housekeeping.
In this session, participants will experience similar support through instruction on how to use the CLeAR resources in their local setting, as well as group discussions and problem solving for common challenges. Individual team success stories will be highlighted and concrete examples of innovative change ideas and activities will be shared. Participants will then have an opportunity to discuss how they could test and apply these ideas in their local setting.
Speaker(s)
Ben Ridout, Quality Leader, Clinical Improvement. BC Patient Safety & Quality Council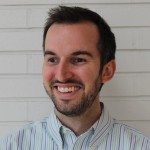 Ben has been a member of the BC Patient Safety & Quality Council since April 2014. As a Quality Leader in Clinical Improvement, he supports a variety of initiatives including Clinical Care Management and CLeAR (Call for Less Antipsychotics in Residential Care).
Through his previous roles at Island Health, Ben was involved in numerous improvement initiatives and developed an enthusiasm for quality improvement. He has always been passionate about numbers and has a specific interest in helping turn data into knowledge to support quality improvement.
Ben holds a Master of Health Administration from Dalhousie University and a Bachelor of Business Administration, with a joint major in Business and Geography, from Simon Fraser University.
Bincy George, Director of Care at Windermere Care Centre
Bincy has been working at Windermere Care Centre since 2000 in various capacities that have helped her understand the dynamics and operations of such a diverse and efficient organization.  She took over the overall resident care portfolio, assuming the role of Director of Care in 2013.
Bincy has a passion for resident care and is a strong advocate for those unable to do so for themselves in their twilight years.  Graduating from UBC in 2007, with a Master's of Science in Nursing, has enabled Bincy to focus on evidenced based practice. Bincy has also been working with Langara College of Nursing since 2009 as an educator.  This experience has geared her towards implementing best practice guidelines at the organization. Bincy believes that Windermere Care Centre has a great team and is proud of the high standards it strives for in order to be a leader in long term care.
[/accordion-item]
[accordion-item title="Linking Person-Centred Care to Staff Safety: Training through a Dementia Lens "]
Abstract: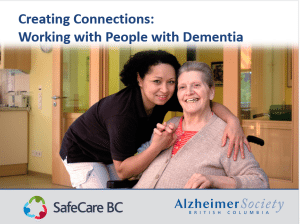 In British Columbia, long term care workers have one of the highest injury rates of any industry, at 9.2 per 100 person-years. Acts of responsive behaviour or violence are the second-leading cause of injuries among long term care workers. Consequently, health and safety initiatives within long term care organizations often have a violence prevention focus.
At the other end of the spectrum, there is a growing emphasis within the long term care sector to de-institutionalize care and shift to person-centred care models. In order to address the interrelated issues of staff safety and resident quality of life, SafeCare BC and the Alzheimer Society of B.C. partnered to deliver dementia care training to long term care workers in BC. This partnership built on earlier work done by WorkSafeBC and the Alzheimer Society of B.C. In this session, attendees will learn about the rationale behind the program, its origins, content focus and delivery method. In addition, the presenters will report on the effectiveness of the program, as well as valuable lessons learned.
Jennifer Stewart, M.A. – Manager, Advocacy & Education, Alzheimer Society of B.C.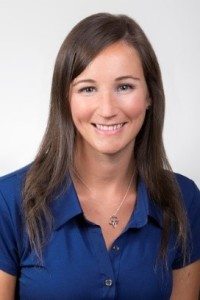 Jennifer Stewart is Manager of Advocacy & Education at the Alzheimer Society of B.C. Throughout her eight years with the Society, Jennifer has been involved in the development of a variety of programs. Jennifer's current focus includes new initiatives to build Dementia-Friendly Communities throughout B.C., and to promote person-centred approaches to care. Jennifer is committed to ensuring individuals and families have the best life possible as they navigate the dementia journey. Jennifer holds a BA in Psychology from UBC and a MA in Gerontology from SFU.
Jennifer Lyle, MHA – Executive Director, SafeCare BC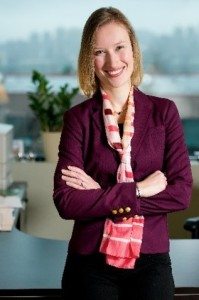 Jennifer Lyle is the Executive Director of the provincial long term care health and safety association, SafeCare BC. SafeCare BC's mandate is to reduce workplace injuries in long term care through the provision of education, tools, and resources. Jennifer holds a BSc. in Kinesiology from Simon Fraser University, and a Master of Health Administration from the University of British Columbia. She is an advocate of a holistic approach to healthcare and believes that creating positive, healthy environments for providers and clients is key to quality care.
[/accordion-item]
[accordion-item title="Commitment to Quality: The Accreditation Journey Commission on Accreditation of Rehabilitation Facilities"]
Abstract: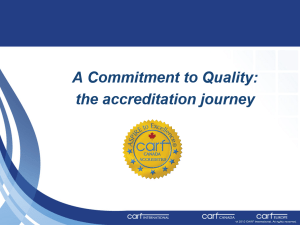 While many organizations in British Columbia (BC) are required to become accredited by their funding body, some organizations pursue accreditation voluntarily so that they may demonstrate their commitment to quality, risk reduction, and to achieve the best outcomes possible for their clients.
For one organization in the lower mainland of British Columbia, their voluntary choice to seek accreditation signaled their commitment to providing high quality services. Progressive Intercultural Community Services (PICS), a multi-site organization that provides programs and services to assist new immigrants, seniors, farm workers, women and youth, began their accreditation journey in 2012. 
Notably, PICS became the first Canadian organization to achieve CARF accreditation for its Independent Senior Living program, and is the only CARF-accredited Adult Day Service in BC.  PICS interviewed several accrediting bodies and chose the Commission on Accreditation of Rehabilitation Facilities (CARF) as it's accrediting body for a number of reasons including: person-centred focus, standards that are non-prescriptive and community-based, support during the process from CARF staff, outcomes focused.
Speaker(s)
Rajeev Mohindru – Director of Care at Progressive Intercultural Community Services (PICS) Assisted Living in Surrey, BC.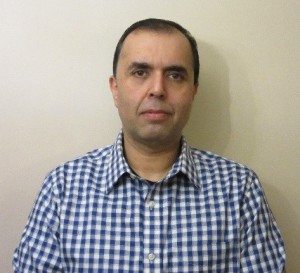 Rajeev Mohindru, (MSW, BSW, RSW, B.Com, B.Tec, DMS) is the Director of Care at Progressive Intercultural Community Services (PICS) Assisted Living in Surrey, British Columbia. Rajeev has more than 22 years' experience in the field of human services, health care, social work and education. Rajeev has worked for non-profit organizations as well as for the government social services departments, both in Canada and the United Kingdom. His areas of work include ageing services, mental health, geriatric care, physical and developmental disabilities. He has worked in community social work, hospital social work, crisis intervention, day programs including with mental health, dementia and ethnic services, residential and nursing care, assisted living. His management role for the past fifteen years include daily operations, recruitment, training, conducting performance appraisals, mentoring, evaluating & reviewing programs and services, crisis intervention & management & intake work dealing with emergency situations, conflict resolution etc.. Rajeev is also a certified mentor for social work students and a guest lecturer at the University of the Fraser Valley.
Daniel Stavert – (M.S.W., R.S.W.), is the Chief Advisor, Accreditation Standards (AB office)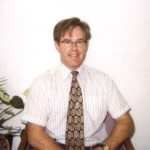 Daniel Stavert, (M.S.W., R.S.W.), operates out of the Edmonton, Alberta Office and is the Chief Advisor, Accreditation Standards.  He has more than 25 years of management experience in human services, including the areas of aging services, child welfare, foster care, adoption, community services to person with developmental disabilities, public guardianship, correctional services, legislation, protocol and policy-making, and accreditation standards.
[/accordion-item]
[accordion-item title="Incorporating Faith in a Non-Faith Based Care Home (Addressing Spiritual Needs of Individual in a Non-Faith Based Home)"]
Abstract: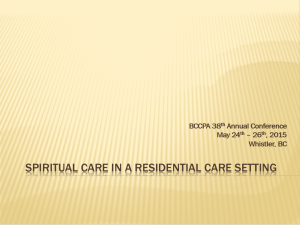 The session will be introduced through the lens of a Faith-based Christian care organization. Menno Place, operated by the Mennonite Benevolent Society, has a vision to provide quality care and quality of life in a compassionate, Christian environment. They offer a wide range of spiritual care resources to residents, families and staff. The ethos and programs of a faith-based care community will be shared.
A comparison will be presented by the operators of a non-denominational complex care home, Langley Lodge.  The presentation will discuss how engagement of local community churches, volunteers and dedicated chaplain resources are combined to deliver a comprehensive spiritual care program with very limited financial resources.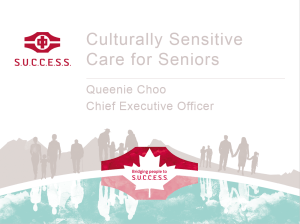 To conclude the session, we introduce the concept of cultural sensitivity. There are increasing numbers of seniors from ethnic community minority (primarily Asian) backgrounds in long-term care homes. Recent studies suggest ethnic minority seniors describe many barriers such as language, value systems, understanding of health practices and belief systems. Understanding the cultural context of one's health related behaviors does not only improve client and health care provider's relationship, but also client's health outcomes.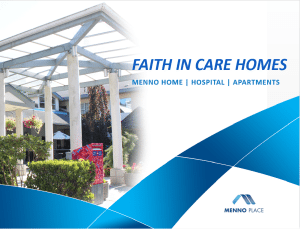 Resources for guiding the development of a spiritual care program will be shared. The importance and value of spiritual care for residents is the foundational theme.
Speaker(s)
Queenie Choo, Chief Executive Officer S.U.C.C.E.S.S
Queenie Choo has held many senior leadership positions in varied organizations. She was appointed as the CEO to commission the first culturally based seniors care home in Edmonton Alberta. With her strong background in continuing care, in 2010 Choo was appointed as the ED responsible for redesigning the home and community health system within Alberta Health Services.
Demonstrated with effective leadership ability, in 2012 Choo was appointed as the CEO of S.U.C.C.E.S.S., the largest non-profit social service organization in BC. Choo's role has been based on her ability to blend a rigorous and result oriented approach with a genuine sensitivity to people. She has led the teams to develop many innovative programs in the area of skills and training, employment, business development, settlement, language, family & youth for newcomers as well as seniors care and housing.
Choo was recognized as the Queen Elizabeth II Diamond Jubilee award recipient for her significant contributions to the community. She received her master degree in Nursing from the University of Alberta and her Canadian Health Executive (CHE) designation from the Canadian College of Health Leaders. Choo has also presented widely both nationally and internationally.
Sharon Simpson, Director of Communications and Marketing at Menno Place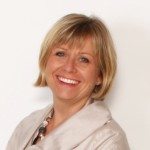 Like you, executive leader and expert communications strategist, Sharon Simpson understands the power of authenticity and emotion when communicating the story of an organization. With over two decades of experience in communications and business experience, Sharon combines wisdom, vision and enthusiasm in her leadership.
Her communication strategies have shaped companies such as the BC Milk Marketing Board and multiple independent films. Sharon has spoken in the inner sanctum of The Directors Guild of America and is a guest lecturer in the Aging Matters course at Regent College.
As Director of Communications and Marketing for Menno Place, Sharon's focus is on relationships and authentic story-telling. She writes frequent articles on senior's issues that demystify, encourage and challenge thoughts on aging and elderly living. Her passion is to help seniors finish strong as they face significant loss and transition.
Sharon enjoys coaching a women's dragonboat team, providing spiritual direction and camping with her family. She is a frequent speaker at women's retreats and seniors groups. She holds a BA in Psychology from the University of British Columbia.
Debra Hauptman, Chief Executive Officer, Langley Care Society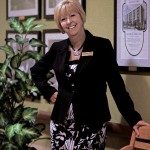 Debra Hauptman has been Langley Care Society's Chief Executive Officer since September 2009. A graduate of BCIT's School of Nursing, she started her career working primarily in adult mental health services.  She has since worked in community-based mental health, vocational rehabilitation and primary care services for over twenty years in a senior management role.
Prior to Langley Care Society, Debra worked for Vancouver Coastal Health Authority, as the Manager of the Downtown Community Health Centre, a primary care clinic in Vancouver's Downtown Eastside. Prior to 2005, she was the Executive Director of SRS Vocational Services in Surrey for 13 years.
Debra earned a Master's Degree in Business Administration from Simon Fraser University in 2002. She has served as a Director on the Central Surrey Business Improvement Association and the Surrey Board of Trade. She is currently a representative on the Seniors Advisory Committee of the Township of Langley and a Director on the Board of the BC Care Providers Association.
[/accordion-item]
[/accordion]
2015 Annual Conference Sponsors:
Title:



Platinum Co-Sponsors:

 
Gold:

Silver:


Golf Tournament Sponsor



Monday Dinner


Monday Lunch



Monday Breakfast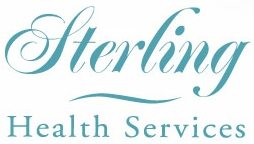 Tuesday Breakfast


Monday Coffee Breaks

Tuesday Coffee Breaks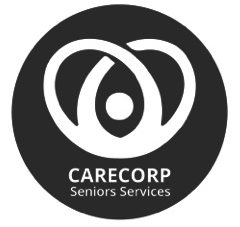 Lanyard & Bag Sponsors



2015 Educational Partner