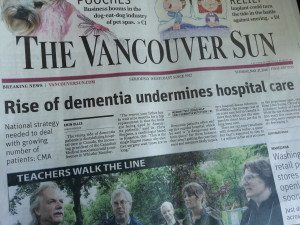 Dr. Chris Simpson, President-Elect of the Canadian Medical Association & 2014 BCCPA Annual Conference panelist has issued a video message to Canadians on why we need a national dementia strategy. See video below.
Last May, Simpson joined  a blue-ribbon group of panelists including Claude Gravelle, NDP Member of Parliament for Nickelbelt, Dr. Diane Finegood, President & CEO, Michael Smith Foundation for Health Research and Mimi Lowi-Young, CEO, Alzheimer Society of Canada to tackle a conversation on why Canada needs a national dementia strategy. The packed session explored how federal and provincial governments, in collaboration with stakeholders, can work toward the development and implementation of a national initiative. The dialogue also assessed how the growing prevalence of dementia is impacting the health care system today.
The acclaimed panel discussion sparked a number of articles and news segments nation-wide, along with a front-page story on the Vancouver Sun. See that article here.
2015 Annual Conference Tackles Emerging Issues in Sector
The 2014 BCCPA Annual Conference proved to be a pinnacle of conversation and forward thinking for the Canadian Continuing Care Sector. With an impressive draft of over 60 speakers and 24 panel discussions/presentations, you won't want to miss this year's conference. Registration closes May 13th, so best to register early and reserve your spot in preferred sessions. Click here for more information or to register.