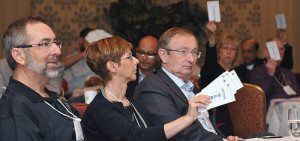 Last week, the BCCPA Board of Directors approved a special resolution on funding and sustainability within the continuing care sector that will go before the Annual General Meeting (AGM) on May 25, 2015. This coincides with the first day of the 2015 BCCPA Annual Conference to be held in Whistler, BC.
In particular, this resolution relates to limited funding lifts being provided by Health Authorities that are not covering basic costs of inflation. This important resolution outlines many of the concerns expressed by members, including:
Need for standard province-wide methodology on how base funding and/or annual funding increases are calculated;
Having consistent province-wide standards linking funding to the level of acuity and medical complexity of seniors in care;
Greater equity with respect to funding of direct care hours for seniors with similar medical conditions;
Greater transparency and timeliness with respect to final operating revenues; and
Need to remain fiscally sustainable due to an identified shortage of funding to cover inflationary costs.
Overall, along with identifying these and other important issues facing care providers, the resolution advocates that the Ministry of Health and Health Authorities formally establish a new BC Continuing Care Collaborative to help improve health outcomes for seniors and further enhance partnerships, dialogue and planning between government, health authorities and service providers. Finally, it advocates that such a Collaborative adopt four core principles:
Timeliness
Fiscal sustainability
Equity
Transparency
If adopted by the Collaborative, this would help establish a business-to-business relationship between contracted providers and the health authorities.
BCCPA Annual Conference Takes Place May 24-26 in Whistler
If you are not already committed to going to the Annual Conference, we encourage you to attend and express your views and vote on this important resolution. Over 350 people have already registered to attend the conference, in which 60+ speakers will be participating in 24 separate workshops focusing on four key themes relating to residential care, safety, home care, and faith-based care. Former PEI Premier Robert Ghiz will be the keynote speaker for our opening plenary on "Delivering Excellence and Sustainability in Continuing Care" will also participate in the plenary which will be hosted by well-known veteran BC broadcaster Bill Good. The conference is a great opportunity to learn, network and meet key players within our sector.
If you are a member of the BCCPA and want download a copy of the special resolution or get details regarding the Annual General Meeting, please click here and login to access the information.