***Registration Closes May 13th***
Former PEI Premier Robert Ghiz Keynote Speaker at 38th Annual BC Care Providers Association Conference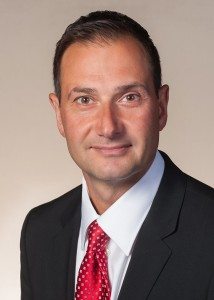 The British Columbia Care Providers Association (BCCPA) is pleased to announce that Robert Ghiz, former Premier of Prince Edward Island (June 2007 to February 2015), will be a keynote speaker at the 38th Annual Conference being held in Whistler, BC on May 24-26, 2015.
Ghiz will be participating in the opening plenary discussion focusing on sustainability and innovation in the continuing care sector. As part of his work with  the Council of the Federation (Canada's Premiers), Ghiz played an instrumental role in placing issues such as collaboration on health care and care for seniors onto the national agenda. Ghiz also served as co-lead of the first Health Care Innovation Working Group alongside Premier of Saskatchewan Brad Wall.
"I'm honoured to have been asked to speak at the BCCPA Conference regarding the delivery of senior's care, an issue I feel very passionate about," says Ghiz. "Along with looking at the effects of an aging population we need to embrace and explore opportunities to innovate and enhance the types of services we offer to seniors across Canada."
The opening plenary session will take place on Monday, March 25 at 9 am at the Fairmont Chateau Whistler and will be moderated by well-known broadcaster and media personality Bill Good.  After 21 years with the Canadian Broadcasting Corporation (CBC), first doing radio before moving to TV news, Good hosted talk radio at CKNW for 26 years. He also anchored evening news broadcasts on BCTV and CIVT.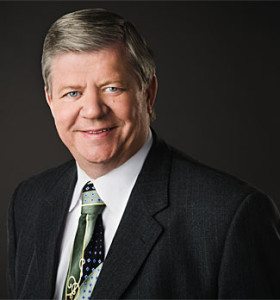 "It's a great honour to have former Premier Ghiz address our delegates this year," says Daniel Fontaine, CEO, BCCPA. "He's been a strong national voice and has also helped to raise the important issue of seniors care on the national scene."
Joining Ghiz on the sustainability and innovation panel are an esteemed group of Canadians including: Dr. Samir Sinha, Director of geriatrics at Mount Sinai and the UHN hospitals, and Provincial Lead of Ontario's Seniors Strategy; Dr. Sacha Bhatia, Director of the Institute for Health System Solutions and Virtual Care at Women's College Hospital and Evaluation Lead for Choosing Wisely Canada; Dr. Janice M. Keefe, Professor Department of Family Studies and Gerontology at Mount Saint Vincent University; and Dr. Ryan D'Arcy, Neuroscientist and Chair of Surrey's Innovation Boulevard.
Click here for the conference agenda.
Premiere Event For Continuing Care Sector in Canada

The BCCPA Annual Conference is considered a premiere event for the continuing care sector in Canada. It is the largest sector-focused conference of its kind in Western Canada attracting well over 400 attendees last year – including over 60 exhibitors.
As part of the Annual Conference there will be a total of 24 workshops focusing on a wide range of topics for anyone with an interest in Canada's continuing care sector. Two additional plenary sessions are scheduled to place including one on End-of-Life care in Canada and a discussion with the CEOs of the Fraser Health Authority and Providence Health Care. For more information or to register for the 2015 BCCPA Annual Conference, please click here.
Former Deputy Premier & Well Known Pollster Take Stage For Next Care To Chat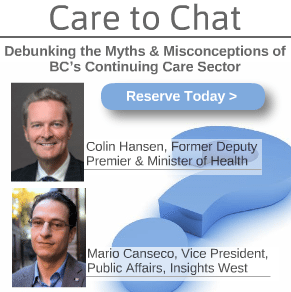 Join Colin Hansen, Former Deputy Premier and Health Minister, high-profile pollster Mario Canseco, VP, Public Affairs, Insights West, and a panel of industry experts who will be exploring the many myths and misconceptions of BC's dynamic continuing care sector on April 27th. Canseco will be revealing for the first-time ever a comprehensive review of the results of an exclusive public opinion poll commissioned by the BC Care Providers Association. Over 800 British Columbians were surveyed and asked to provide their perspective regarding what they believe to be either a possible myth or misconception regarding seniors care in the province.
Are BC's health care aides really making more injury claims compared to lumberjacks, police and fire personnel? Is there enough funding in the system to provide for a publicly funded care bed  or home care service…Read more.
Care To Chat Offers MOC Credits

MAINTENANCE OF CERTIFICATION
Attendance at this program entitles certified Canadian College of Health Leaders members (CHE / Fellow) to 1 Category II credits toward their maintenance of certification requirement.