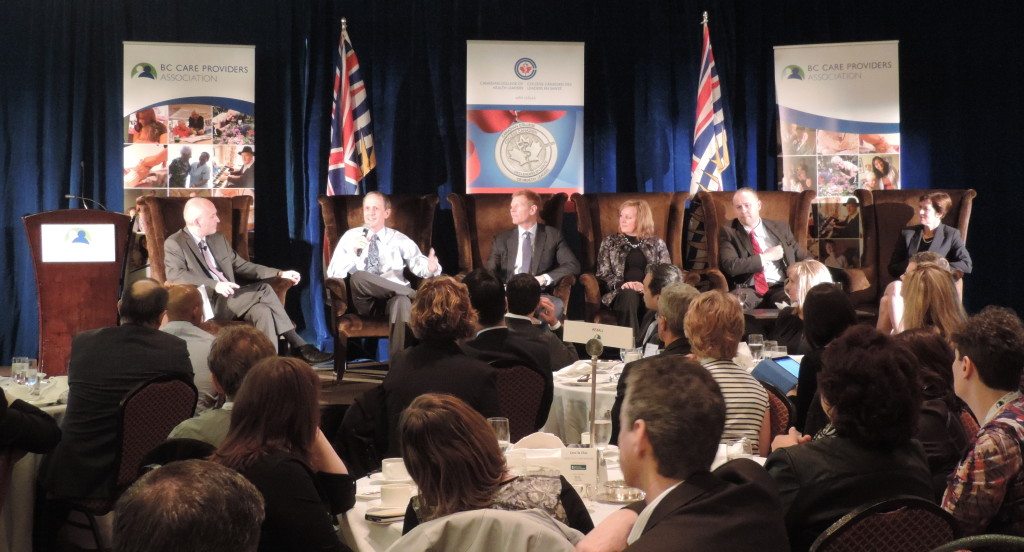 A packed room of over 150 people gathered at the Terminal City Club yesterday for the most highly anticipated Care to Chat event to date. The panel discussion, which was co-hosted with the Canadian College of Health Care Leaders (CCHL), was titled Fiscally Frail: How Will We Meet The Health Needs Of An Aging Society In An Era Of Limited Budgets?
With people attending from as far away as Ontario, the two-hour event featured Deputy Health Minister, Stephen Brown along with the CFOs of BC's Health Authorities.
Glen Copping, Chief Financial Officer and Vice President, Systems Development & Performance, Vancouver Coastal Health
Kim Kerrone, Vice President & Chief Financial Officer, Island Health
Martin Pochurko, Chief Financial Officer, Fraser Health
Donna Lommer, Vice President Residential Services & Chief Financial Officer Interior Health
Among the attendees were a number of special guests. They included BC MLAs Doug Bing, Maple Ridge-Pitt Meadows, Judy Darcy representative for New Westminster and Maurine Karagianis, Esquimalt-Royal Roads.

Deputy Minister Commits to Dialogue with BCCPA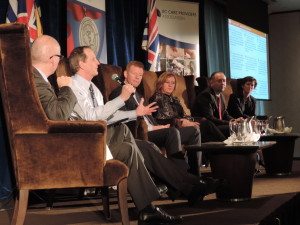 Deputy Health Minister Stephen Brown kicked off the sold-out session with a keynote address. During his speech, Brown articulated how BC's residential care system is "absolutely out of date" and how "we [British Columbia] need to set a trajectory for a model that meets the patient's needs."
Brown also recommended a book entitled Being Mortal: Medicine and What Matters in the End by author Atul Gawande which revisits aging and the way in which we have "medicalized" a normal part of the life cycle – death. Click here for a book review and opinion piece by BCCPA Director of Policy and Research, Michael Kary.
The Deputy Minister closed by emphasizing the need for collaboration between the BC Government and the private care sector. To facilitate this, Brown called upon the BCCPA and its members to join him for a half-day open dialogue to discuss the future of senior's care in BC . Planning is now underway for this big event which should take place this spring – so stay tuned as we provide our members with further updates over the coming weeks.
Panel Tackles Hard Hitting Questions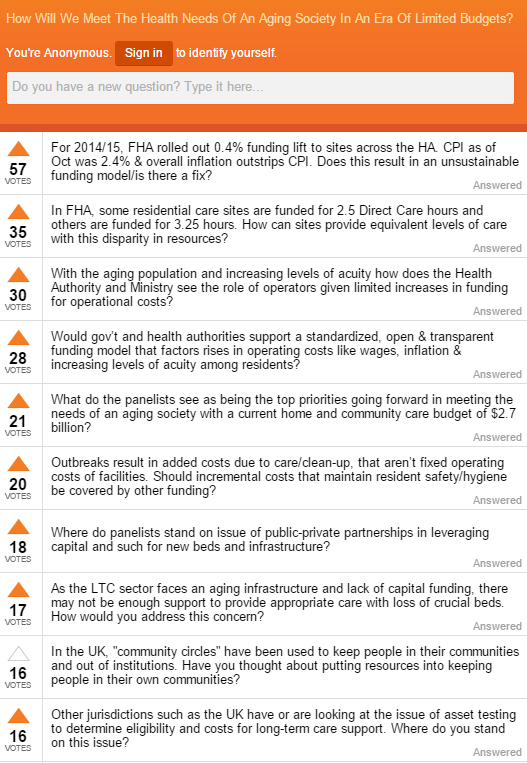 Following his keynote speech, Brown sat down with the CFOs of BC's Health Authorities for a hard hitting panel discussion on BC's residential care funding model. Daniel Fontaine, CEO, BCCPA moderated the dialogue with "real-time" questions submitted electronically by the audience. Using Pigeonhole technology, attendees were afforded the opportunity to submit their questions live through their smartphone, as well as vote on all of the questions to determine which were most top-of-mind.
Over the course of the question and answer session, the panelists explored opportunities to link resources with the health needs of British Columbians. The panel offered a unified voice and indicated the BC Government and Health Authorities are motivated to work with BCCPA members to meet the demands of an aging population.
With another stellar Care to Chat event in now behind us, planning is well underway for the next event. The luncheon will take place on April 27th and is titled, "Debunking the Myths & Misconceptions of BC's Continuing Care Sector." One of the panelists is well-known pollster Mario Canseco, Vice-President, Public Affairs for Insights West.  The online registration for our next event is scheduled to open up soon – so stay tuned for more details.
CCHL Presents "Annual Breakfast with the CEOs"
Don't miss out on CCHL's Annual Breakfast with the Provinces Health Authority CEO's. This is a unique opportunity to have a 'fireside chat' with the CEO's and understand their perspective how current and future leaders can partner in advancing the vision for sustainable Health Care in BC.
Date:     Thursday, February 19, 2015
Time:     7:00am – 9:00am
Place:    Fairmont Waterfront Hotel, Vancouver, BC
CEO Panel:  Dianne Doyle, President and CEO of Providence Health Care; Dr. Brendan Carr, President and CEO of Island Health; Michael Marchbank, President and CEO of Fraser Health
For more information, please click here.