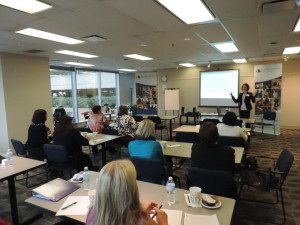 The BCCPA is very pleased to be piloting a series of new workshops intended for our members-only. The first of these workshops took place on October 1st. The workshop Infection Prevention and Control: 365 Days a Year, Back to Basics was led by Cynthia Arseneau, Manager of Clinical Education Programs at Medical Pharmacies Group Limited.
15 attendees from a number of care homes in Metro Vancouver attended the workshop at our new training facility in Metrotower II in Burnaby. Here is what one of them emailed back to us after the session:
"I was one of the attendees at the wonderful Infection Prevention Workshop held last week. I haven't yet received my on-line evaluation but I can assure you I will have nothing but good to say, I have already given good feedback to my employers and suggested the HR team members apply into the Legal workshop."
Our next workshop on Friday, October 24th will be focusing on the issue of labour law as it pertains to BC's care homes. Several senior lawyers from the firm Coutts Pulver (also bronze sponsor for Care to Chat) will be undertaking this custom-made training session.
The session is currently at capacity and no longer accepting registrations, however, depending on attendee feedback, we hope to put the session on again soon.  We also plan to announce very soon our next training session which will take place on Wednesday, January 21st. Check back in the events section of our website, or sign up for our free newsletter subscription to get the latest information.
We are also piloting a webinar feature for the Coutts Pulver workshop which will allow non-Metro Vancouver members to access this training in "real-time". We hope to record this session and also make it available to all of our members through our e-resource library.