BY DARCY HENTON, CALGARY HERALD  
OCTOBER 29, 2014
EDMONTON — Alberta is committing $70 million over three years to upgrade sprinkler and fire safety systems in government owned seniors care facilities, Premier Jim Prentice announced Wednesday.
The funding commitment, following up on a promise the premier made during his recent PC leadership campaign, was announced as "a first step" to protecting seniors in nursing and long-term care facilities, Prentice told seniors at Edmonton's Kiwanis Place Lodge.
"We will bring immediate fire safety upgrades to the facilities that need it the most," the premier said.
The Herald reported in the wake of a January fire in a Quebec seniors home that killed 32 residents that 455 of Alberta's 657 seniors facilities are not fully equipped with sprinkler suppression systems.
Neither the Premier nor Seniors minister Jeff Johnson could say how many facilities could be upgraded with the announced funding or how long the retrofits would take, but Prentice noted the province ha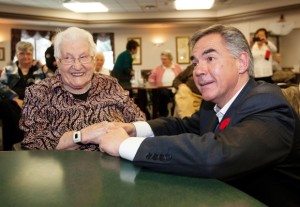 s estimated it will cost more than $200 million to bring all of the facilities up to the current fire code standards.
"These improvements cannot happen instantaneously," he said. "They cannot happen overnight."
Prentice called on housing management bodies to submit assessments of their facilities before Dec. 1 to access the funding from the Alberta Social Housing Corporation financial reserves.
Shortly after being appointed to cabinet in September, Seniors Minister Jeff Johnson said protecting seniors residences was a high priority, but that it couldn't happen overnight because of cost and insufficient water systems in some communities.
NDP critic David Eggen said the funding falls far short of what is required.
"Seventy-million dollars — perhaps if they spend it prudently — will cover about 28 per cent of the required facilities in this province which are right now inadequate so you are leaving approximately 70 per cent of seniors who … will not be given any new safety measures with this announcement," he said.
He also noted the announcement fails to address privately-owned seniors facilities as well as hospitals and health-care centres operated by Alberta Health Services.
Documents obtained by the Herald from Alberta Health Services under a freedom of information request showed that there are more than 80 health care facilities in Alberta that aren't protected by fire suppression sprinkler systems and another 50 that only have sprinklers in some areas.
The AHS documents revealed hospitals in Sundre, Vegreville and Mundare have no sprinklers. Neither did health centres in Bassano, Killam, Boyle, Edson, Whitecourt, Lac La Biche, Edson, Cardston, Breton and Lamont.