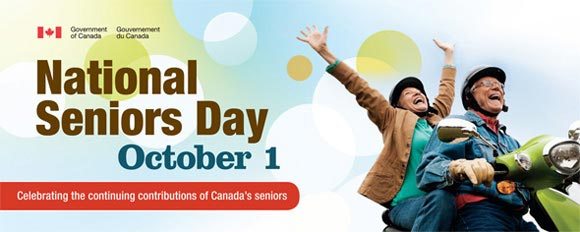 October 1 is National Seniors Day.
Canadians across the country will proudly pay tribute to the seniors who have helped build our country and continue to make valuable contributions to Canadian communities, workplaces and society.
National Seniors Day is an occasion for all Canadians to appreciate and celebrate seniors. Below you will find tips and resources from the Government of Canada to celebrate the day and commemorate the seniors in your life.
+++ 
National Seniors Day Celebration Tool Kit
There are lots of ways for individuals, community groups, schools, employers and families to celebrate National Seniors Day. Whether you are planning an event or simply meeting a senior for coffee, our Celebration Tool Kit will help you make the most of the day. The products and ideas below are merely a start. No matter how you choose to celebrate, your message will be heard—and appreciated!
Plan an Event
The Government of Canada would like to know how communities are celebrating seniors. Please send us an email to tell us about your upcoming National Seniors Day event or post your event on our Facebook page.