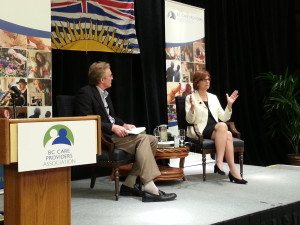 I was very pleased to have the opportunity to meet so many of you at our recent annual conference in Whistler. Based on your feedback, it was a tremendous success and helped to continue building momentum and raise the profile of our sector with key decision-makers and the public.
Not only did one of our opening panel discussion trigger a front page story in the Vancouver Sun, so too did our closing Care to Chat session with Isobel Mackenzie, BC's new Seniors Advocate.
This is a testimony to the hard work so many of you have put in over the years to place the issue of seniors care on the radar. We must now build on that momentum to help address the key challenges we face not only on a day-to-day basis – but also in the years to come.