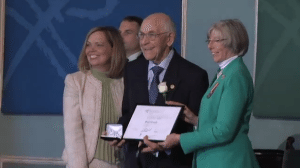 Fred Titcomb has devoted himself to life of volunteering. Titcomb was born in Canada when the life expectancy for a man was under 60 years. At 102 years young, Titcomb has far surpassed that statistic, and has been volunteering for over 75 years.
Titcomb received a BC Community Achievment Award at Government House in the spring of 2014. Now a centenarian, Titcomb still proves his youthfulness in many ways, one of which was learning how to operate a computer in his 90's.
Titcomb is an inspiration to all ages, and testament to the belief that you are only as young as you feel.
See a short video on the life of Fred Titcomb, and how he continues to inspire those around him.