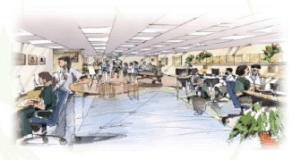 It was a packed house for the launch of Retirement Concept's (RC) new Innovation Centre for Healthy Aging. The centre, located at Guildford Seniors Village in Surrey, is the first of its kind in British Columbia and allows researchers, health care providers, residents and families to work alongside each other to test, refine and implement leading-edge products and services.
RC has drafted an impressive line-up of research partners including Simon Fraser University and the British Columbia Institute of Technology to develop a non-conventional approach that facilitates research and development of new products and services within RC-Owned properties.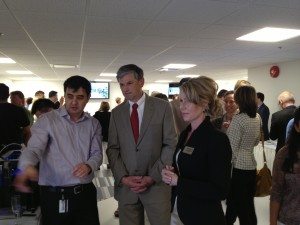 Among the packed room of researchers, industry professionals, and front line care workers were several cabinet ministers, MLAs and a city councillor from the City of Surrey.
To open up the formal presentation was Hon. Andrew Wilkinson, Minister of Technology, Innovation and Citizens' Services. Wilkinson took to the podium to speak about the unique potential of the new centre.
"Technology has the power to transform the way we live and age, and the type of research and innovation that will be undertaken at the new Retirement Concepts Innovation Centre for Healthy Aging will make a very real and positive difference in people's lives," said Wilkinson.
"[Researchers and business] Can readily trial something, see if it works, then hit the market with it."
Also speaking to the synergy of the centre was Surrey-Tynehead MLA, Hon. Amrik Virk, Minister of Advanced Education.
"This is about technology, universities, and business coming together to improve lives," said Virk.
Also in attendance was Parliamentary Secretary to the Minister of Health for Seniors, Linda Larson who commended Retirements Concepts on the initiative as well as their shared passion for seniors care. Following the Parliamentary Secretary at the podium was Linda Hepner, Councillor, City of Surrey.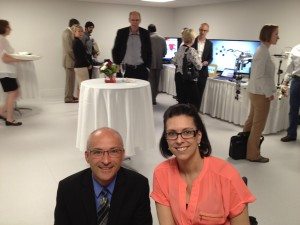 Daniel Fontaine, BC Care Providers Association CEO, also spoke at the launch along with renowned neuroscientist, Dr. Ryan D'Arcy, BC Leadership Chair, SFU & Fraser Health.
"When we ask what we have accomplished here, I don't think we know yet," said D'Arcy referring to the uncertain scope and revolutionary potential of the initiative.
Eight projects currently underway at the centre focus in areas such as a portable EEG device for dementia and fall-related concussion monitoring, mobility assistive devices such as airbags for wheelchairs, and video capture to study the cause and prevention of violence-related adverse events in long-term care. 
"As a company, we feel a social responsibility to contribute to improving the lives of our residents and others in our communities that can benefit from these products and services," says Rowena Rizzotti, Vice-President of Operations at Retirement Concepts.