In the final Care to Chat of the 2013/14 season, BC's newly appointed Seniors Advocate, Isobel Mackenzie, articulates how her office will combat ageism. In the new role, Mackenzie will make an annual report with recommendations to the minister of health regarding the approach to seniors' care in the coming years. For a recap of the dialogue between Mackenzie and BCCPA President, Dave Cheperdak, read the front page story of the Vancouver Sun below.
+++
Ageism alive in health care, says B.C. seniors' advocate
Keeping patients in bed is debilitating, she says
BY ERIN ELLIS, VANCOUVER SUN MAY 27, 2014
B.C.'s new seniors' advocate says ageism contributes to older patients languishing in hospital where they quickly deteriorate.
"Mobilization or lack of mobilization for people in acute care settings is profound and something we're not paying enough attention to," Isobel Mackenzie told the closing session of the BC Care Providers Association in Whistler on Tuesday.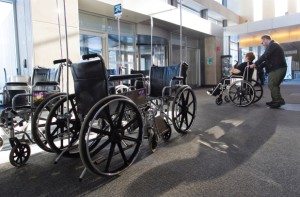 "We put the oldster in bed and we forget about them. That's part of what my office will be looking at, is combating ageism. It isn't about more money. It's about our practices.
"One of the things we do when they come in (to hospital) is catheterize them so they don't have to get up to go to the bathroom."
On the job seven weeks as the first seniors' advocate in B.C. — and the country — Mackenzie will make an annual report with recommendations to the minister of health. There is no guarantee that her suggestions will be implemented, although they must be made public.
On Monday, the incoming president of the Canadian Medical Association told the conference that seniors with dementia are occupying expensive acute care beds in hospitals across Canada when they would be better served in long-term care. Dr. Chris Simpson said regular hospitals can be a "dangerous and toxic place" for seniors who are often stuck there after being admitted for an emergency, taking up beds that could be used by other patients.
Before becoming the seniors' advocate, Mackenzie built her career at Beacon Community Services in Victoria, a not-for-profit housing and volunteer services agency.
She says society may have to rethink its approach to seniors' care in the coming years. There are more than 700,000 seniors in B.C. today and that number is expected to double over next two decades.
In terms of hospital care, it's important for health workers to remember how quickly older patients can deteriorate if they don't get out of bed. But because they mover more slowly, busy hospital staff doesn't always have time to help them walk — something now typically done by physiotherapists rather than nurses.
"It's not physiotherapy," said Mackenzie. "It's walking.
"It's ageism because it's not as important for the 40-year-old to become mobile as the 85-year-old, yet we put the greatest emphasis on the 40-year-old in the hospital."
Mackenzie said one of the biggest messages she'll promote as seniors' advocate is that younger adults don't always know what's best.
"We have to very careful about projecting what we want, or what we think we'll want, when we're 85. Some 50-year-olds seem to be clairvoyant …read more
+++
Also making the front-page of the Vancouver Sun was coverage of the opening plenary session of the 37th Annual Conference. The session, titled, National Dementia Strategy: What Are We Waiting For? drew a crowd of over 350 in attendance, including Health Authority and media. Moderated by Kevin Falcon, former Deputy Premier and Minister of Health the panel included Claude Gravelle, Member of Parliament (Nickel Belt); Dr. Diane Finegood, President & CEO, Michael Smith Foundation for Health Research; Mimi Lowi-Young, CEO, Alzheimer Society of Canada; and Dr. Chris Simpson, President-Elect, Canadian Medical Association. To read the front page article, follow this link.