With over 400 delegates in attendance, 2000+ meals served and 20 concurrent sessions, the sold out 37th Annual Conference was a huge success!
The opening plenary session titled National Dementia Strategy: What Are We Waiting For? drew a significant crowd of over 350 delegates, including Health Authority representatives and media. Moderated by Kevin Falcon, former Deputy Premier and Minister of Health the panel included Claude Gravelle, Member of Parliament (Nickel Belt); Dr. Diane Finegood, President & CEO, Michael Smith Foundation for Health Research; Mimi Lowi-Young, CEO, Alzheimer Society of Canada; and Dr. Chris Simpson, President-Elect, Canadian Medical Association.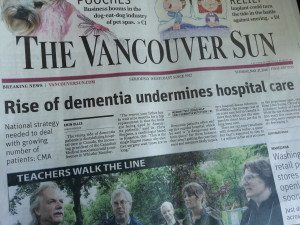 The highly anticipated session explored how federal and provincial governments, in collaboration with stakeholders, can work toward the development and implementation of a strategy for Canada. The following day the conversation carried on to the front-page of the Vancouver Sun. To read the full article visit the Vancouver Sun website here.
+++
Doctors push for co-ordinated approach to dementia treatment
National strategy needed to deal with growing number of patients, CMA president says
BY ERIN ELLIS, VANCOUVER SUN – MAY 26, 2014
The rising tide of dementia patients is destabilizing hospital care in Canada, the incoming president of the Canadian Medical Association told a health conference in Whistler Monday.
"The reason your father has to wait nine months for a hip replacement is that the beds are being used by dementia patients," said Dr. Chris Simpson, a cardiologist based in Kingston, Ont. "That is the single biggest reason why elective surgery wait times are so long."
Dementia patients often end up in a regular hospital, which he said is "a dangerous and toxic place" for them because they aren't getting the care they need and are more likely to pick up a hospital-borne infection. In addition, the average cost of an acute care bed in Canada is more than $800 per day compared to about $125 per day in long-term care.
There are 747,000 Canadians with dementia today, a number that's expected to rise to 1.4 million in the next 20 years as the population ages, said Mimi Lowi-Young, CEO of the Alzheimer Society of Canada. While the risk of dementia doubles every five years over the age of 65, more younger people are developing it. Women are overrepresented among patients, noted Lowi-Young, and make up 72 per cent of Canadians with Alzheimer's.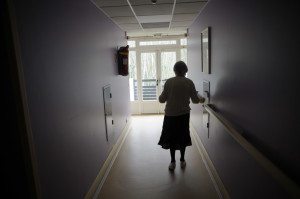 Speaking at the annual meeting of the B.C. Care Providers Association, Simpson and other health experts continued to call for a national dementia strategy to deal with the issue. The association represents 230 private and non-profit organizations that provide residential care, home care, home support and assisted living in B.C.
"We've got to get away from the tendency to institutionalizes these patients in the acute care sector because once they're in there it's hard to get them out," said Simpson. "Long-term care facilities, in an ideal situation, know how to deal with the management of complex diseases."
The U.S., U.K., Norway, France, Netherlands and Australia have all created plans on dementia that will help them approach it in a more co-ordinated way, said Lowi-Young.
Care for people with Alzheimer's disease and other forms of dementia varies greatly from one facility to another, she said. And family doctors often don't know the right questions to ask patients in order to uncover dementia before it reaches a critical level.
"We want to bring all players together," including government, scientists, the health care and business sectors, said Lowi-Young…read more