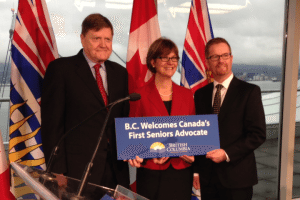 On March 19, Health Minister Terry Lake appointed Isobel Mackenzie as Canada's first Seniors Advocate. Mackenzie has stepped down from the BCCPA Board effective immediately in order to pursue her new role as Seniors Advocate.
We are pleased to announce that Isobel Mackenzie has confirmed she will be the keynote speaker at our next Care to Chat session taking place at the Annual Conference on May 25-27 in Whistler, BC. Join Mackenzie in a session entitled, A Conversation with B.C.'s First Seniors' Advocate, as she addresses the sector in her new role. Register for the Annual Conference here. Please note our early bird deadline of March 31st is fast approaching.
Read the full news release here.