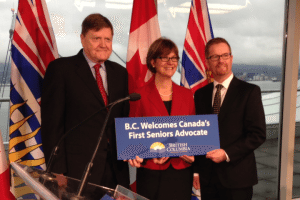 Earlier today, Health Minister Terry Lake appointed Isobel Mackenzie as Canada's first Seniors Advocate. Mackenzie has stepped down from the BCCPA Board effective immediately in order to pursue her new role as Seniors Advocate.
"We want to congratulate Isobel for her appointment as BC's new Seniors Advocate," says Daniel Fontaine, CEO BCCPA. "Isobel has devoted nearly two decades to working within seniors care. She is well informed on the systematic challenges faced by those in care and those who provide care."
We are also pleased to announce that Isobel Mackenzie has confirmed she will be the keynote speaker at our next Care to Chat session taking place at the Annual Conference on May 25-27 in Whistler, BC. Join Mackenzie in a session entitled, A Conversation with B.C.'s First Seniors' Advocate, as she addresses the sector in her new role. Register for the Annual Conference here. Please note our early bird deadline of March 31st is fast approaching.
Read the full news release below or click here

NEWS RELEASE
For Immediate Release                                                                                         Ministry of Health
2014HLTH0023-000333
March 19, 2014 
B.C. appoints Canada's first seniors advocate
VICTORIA – The Government of British Columbia has appointed Is obel Mackenzie as Canada's 
first seniors advocate, announced Health Minister Terry Lake today.
"Isobel Mackenzie brings with her 18 years of experience working on behalf of seniors at a
local, provincial and national level," said Lake. "I am confident that we have found a strong
voice for British Columbia's  nearly 700,000 seniors and I welcome Is obel as our first seniors
advocate."
The Office of the Seniors Advocate will monitor seniors' services, promote awareness and work
collaboratively with seniors, families, policymakers, service providers and others to identify
solutions to systemic issues and make recommendations to government on ways to improve
care for our aging population.
"I have spent nearly two decades working directly with seniors, their families and their care
providers and learning about the individual issues that affect seniors as they age and receive
care," said seniors advocate Isobel Mackenzie. "I am honoured to accept this important
position and look forward to applying my experience as I set priorities and establish my
mandate in the coming weeks and months." 
After an executive search led by the Public Service Agency, Ms. Mackenzie accepted the
position of seniors advocate with an official start date of March 31, 2014.
"It will take a collaborative effort to continue to address the complex needs of our seniors in
B.C.," said Parliamentary Secretary to the Minister of Health for Seniors, Linda Larson. "The
Office of the Seniors Advocate will complement our robust system of supports already in place
and is sure to be a vital source of information as we continue to shape policy and provide
supports for seniors."
Following public consultations across the province, government introduced Bill 10, the Seniors
Advocate Act, making B.C. the first province in Canada to pass legislation to create an Office of
the Seniors Advocate. The appointment of a seniors advocate fulfils a commitment made in
government's  Seniors Action Plan.
For more information please visit the Office of the Seniors Advocate page located on the
SeniorsBC website: www.gov.bc.ca/seniorsadvocate
To review the Seniors Advocate Act please visit:
http://www.leg.bc.ca/39th5th/3rd_read/gov10-3.htm 
Two backgrounders follow.
Media
Contact:
Kristy Anderson
Media Relations Manager
Ministry of Health
250 952-1887 (media line)
Connect with the Province of B.C. at: www.gov.bc.ca/connect