In 2013, the provincial government established the Council to Reduce Elder Abuse (Council) to provide a forum for stewardship and implementation of cross-sectoral efforts to reduce elder abuse in our province. Daniel Fontaine, CEO of the BC Care Providers Association, is a Council member.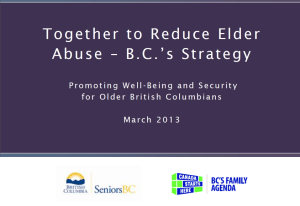 The Council's mandate is to enhance awareness, efficiency and effectiveness of efforts to reduce elder abuse; facilitate cross-pollination of best practices among sectors; and encourage multi/interdisciplinary and coordinated responses to the complex issue of elder abuse, while ensuring effective input from seniors. 
The Council aims to add value to the current system, rather than duplicate the work of existing organizations.
The Council met in December 2013 and January 2014, and will meet approximately three times per year.
The Ministry of Health has asked Council members to consult with their constituents regarding priorities for action and related matters. Accordingly, we are seeking our members' input. To access our survey, please click here. The survey closes Thursday, March 13, 2014.
We look forward to receiving your responses to this important issue.
– BC Care Providers Association