MINISTER OF HEALTH, DR. TERRY LAKE VISITS MENNO PLACE        
Dr. Terry Lake, MLA for Kamloops-North Thompson and British Columbia's Minister of Health enjoyed a walk-about visit of Menno Place's 11 acre seniors' campus of care. He was joined by Simon Gibson, MLA for Abbotsford-Mission. They were hosted by Menno Place's CEO, Karen L. Baillie as well as the Mennonite Benevolent Society Board President, Gerd Bartel and Vice-President, Catherine Kidd.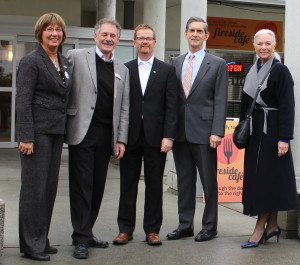 Abbotsford, BC – January 30, 2014 – Health Minister Terry Lake toured the Menno Place campus with his colleague, Simon Gibson, MLA for Abbotsford-Mission. The tour was hosted by the Menno Place's CEO, Karen L. Baillie as well as the Mennonite Benevolent Society Board President, Gerd Bartel and Vice-President, Catherine Kidd. Situated directly across the street from the Abbotsford Regional Hospital, Terry Lake was continuing his tour of three healthcare facilities in Abbotsford: Canuck Place (Children's Hospice), Abbotsford Regional Hospital and Menno Place (Seniors' Campus of Care).
The walk-about tour provided the Health Minister the opportunity to appreciate Menno Place's 60 year legacy of care. It started with a visit to the independent living and Assisted Living apartment buildings that are home to 350 seniors. The tour stopped at the Terrace East/West dining room where a tenant led the elders in grace and a song. There was a short stop to meet Misty the friendly Pomeranian pup who spends her workday greeting people at the reception desk.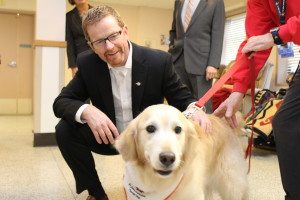 The tour continued to Primrose Gardens, Menno Place's newest apartment building that opened in 2010. From a sixth floor balcony of an apartment suite Terry Lake saw an aerial view of the 11 acre campus and heard our vision for the redevelopment of our aging buildings. Central to the campus is our park-like courtyard that is a source of enjoyment for the 700 residents who call Menno Place their home.
From there, the Minister of Health toured Menno Home, one of the original buildings on the campus. This is one of two Residential Care facilities on the Menno Place campus and is home to 196 residents. Waiting to greet the Minister of Health, a veterinarian, was a gentle golden retriever Bonnie of the St. John Ambulance Therapy Dog Division and her owner Adrian Renkers.  After rescuing and adopting Bonnie, Adrian started the Therapy Dog Division at Menno Home in 2010. This program has grown to 28 teams in Abbotsford. Bonnie and three other dog therapy teams are weekly visitors at Menno Place.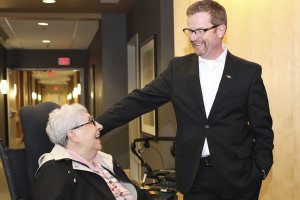 Menno Hospital (Residential Care), home to 151 residents was the final stop on the walk-about tour. The Health Minister modeled his commitment to infection control by cleaning his hands at the hand sanitizing station. Hand hygiene remains the best method for preventing the spread of germs. Menno Place regularly audits hand hygiene to ensure that the staff comply with this essential practice. The most recent audit shows a hand hygiene compliance of 100%.
Throughout the tour, the Health Minister enjoyed conversations with the staff, residents and leaders of Menno Place. It was clear to all who participated in the tour that he shares the heart of compassion and the commitment to excellence that is required when providing care to the seniors in our province.
—
About Menno Place
Menno Place is one of BC's largest campuses-of-care providing residential care, assisted living, supportive living and independent living to 700 residents in 6 buildings on 11 acres. Founded in 1953 by the Mennonite Benevolent Society, we have been privileged to serve the physical, emotional, spiritual and relational needs of thousands of elders and their families.
For further information about Menno Place please contact:
Sharon Simpson, Director of Communications and Marketing
Menno Place  | Sharon.Simpson@MennoPlace.ca  |  604.851.7399