Merle Barwis turned 113 this past weekend, making her Canada's oldest known citizen, and she'll be celebrating it with a cold beer – surrounded by 38 grandchildren and many great grandchildren and great, great grandchildren. Read the full Vancouver Sun article below or click here:
+++

Merle Barwis becomes the oldest British Columbian ever
At 113 years and 14 days she is also among the 13 oldest people on the planet
BY RANDY BOSWELL, POSTMEDIA NEWS
Canada's oldest citizen — and the country's last living link to the Victorian era — celebrated her 113th birthday just before Christmas at a B.C. residential hospital.
And after a year in which Merle Barwis's extreme longevity placed her among the 13 oldest people on the planet, the Vancouver Island resident on Monday also becomes the oldest British Columbian ever at 113 years and 14 days.
But life for the U.S.-born, Saskatchewan-raised Barwis still involves more than merely reaching such impressive milestones. Her continuing reign as the country's senior "super-centenarian" — that's anyone 110 years of age or older — includes frequent visits from family at the suburban Victoria health centre where she lives, special events such as the Dec. 23 birthday party held in her honour, and a regular rekindling of memories over cups of coffee or the occasional bottle of beer.
"She's the queen of the Priory," says her 67-year-old grandson, Richard Barwis of Sooke, referring to the extended care facility in nearby Langford that his grandmother calls home.
"They just love her in there, and treat her so well. They're all jockeying to see who gets to look after her."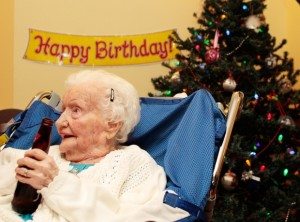 British-born Alice Sjöquist had been the oldest known person in B.C. history until now, living 113 years and 13 days before her death in Kamloops in November 1991. Surpassing that age on Monday makes Barwis the ninth oldest Canadian ever on a list headed by Quebec-born Marie-Louise Meilleur, who died in April 1998 in Corbeil, Ont., at the age of 117 years, 230 days.
By the end of January, Barwis will move up to seventh place on the list of oldest Canadians ever.
"She's been just amazing," said her grandson. "Until a recent little bout, she was on hardly any medication — a couple of minor things, like high blood pressure. But other than that, she was really good."
He added: "You just have to catch her at the right time. I was with her on Christmas morning and she was sitting up drinking her coffee and happy about that. Her daughter and granddaughter from Medicine Hat were out to visit just recently, and she was happy about that, too."
Barwis became the oldest living Canadian in April 2012 after the death of 113-year-old Cora Hansen of Medicine Hat, Alta. By the time Barwis turned 112 in December 2012, she was the 29th-oldest person in the world, according to the California-based Gerontology Research Centre, which maintains an international list of super-centenarians whose ages have been verified by researchers.
A year later, Barwis is 13th on that global list. The oldest documented person in the world today is 115-year-old Misao Okawa of Japan. She turns 116 in March.
To say Barwis is the pride of her clan doesn't quite capture the sense of awe that her remarkable life — not just its length, but its richness — has inspired among her 40-plus descendants, many of whom live in B.C., where the family matriarch and her late husband, Dewey, retired to in the 1950s.
Before that was Iowa, where Merle Emeline Stedwell was born on Dec. 23, 1900, in Des Moines. Her birth came about a month before Queen Victoria's death, making Barwis the only Canadian still alive today who lived during Victoria's reign.
A half-century in Saskatchewan followed soon after for Barwis, first on a hardscrabble homestead her American immigrant parents carved out of the Canadian prairie, and then on the horse ranch she and her husband ran for decades.
"You get her talking and she's got a great sense of humour," said Richard Barwis, noting how her life has extended "from early flight to people on the moon," and feats far beyond.
But she especially likes to reminisce "about the old days when she was a girl out in Saskatchewan, helping out at her dad's horse ranch."
He acknowledged his grandmother's extreme age is "starting to catch up with her, for sure," adding she's "not quite as animated" as she once was.
"It's a fairly routine type of existence," he said, "and unfortunately her eyesight's gone so she can't read anymore. But she seems to just get along."
Merle Barwis hasn't divulged any stunning secrets about what's helped her achieve such a great age, but once suggested it's important "to keep busy and mind your own business" in life.
"If you're old you're old, if you're young you're young. What can you do about it?" Barwis said three years ago, when she was first identified as B.C's oldest person. "If every year I get a year older, you can't do anything about it. You might as well just go along with it."
The number of Canadians who live beyond 100 is growing steadily. In May 2012, a Statistics Canada release of 2011 census data indicated there were 5,825 people in the country aged 100 or older, a total that had increased by about 1,200 since the previous national head count in 2006 and by more than 2,000 since the 2001 census.
StatsCan officials have also predicted a continuous climb in the country's centenarian population for about the next 50 years, with the number of century-old Canadians expected to reach 78,300 in 2061 — the year the 1961 crest of the postwar Baby Boom reaches age 100.
But reaching 110 is an extremely rare occurrence in Canada; there are only about 40 documented super-centenarians in the country's history.
© Copyright (c) The Vancouver Sun