BC Care Providers Association held its inaugural Care to Chat speaker session on November 7, at the Terminal City Club in Vancouver. Over 150 people were in attendance to hear opening remarks delivered by the Hon. Suzanne Anton, Minister of Justice and Attorney General. The session was the first of many, and aimed at exploring issues of interest for care providers, business leaders and key decision makers in the continuing care sector, as well as seniors and their families.
A number of provincial politicians were in attendance including Leonard Krog, Opposition Critic for the Attorney General, Jane Thornthwaite, MLA for North Vancouver-Seymour, John Martin, MLA for Chilliwack, Richard Lee, MLA for Burnaby-North and Sam Sullivan, MLA for Vancouver-False Creek. Former Minister of Health Colin Hansen and former city councilor Tim Louis were also there to listen in on the discussion.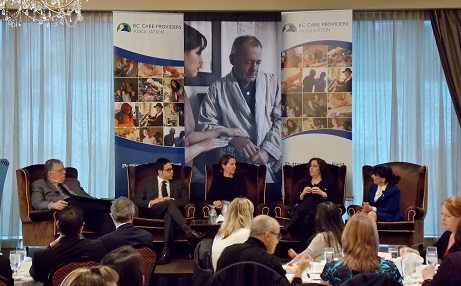 The thoughtful discussion explored the topic, "Resident-on-Resident Abuse in Long Term Care: When Your Loved One is the Aggressor." Moderated by Rick Cluff, the session brought together a panel of experts in mental health law, criminal law, policing, forensic psychology, and caring for older adults with dementia. The focus of the session was on how the health and justice systems can best support aggressive seniors with dementia after a violent incident, as well as what families and care providers can expect after a senior has been arrested or charged. The panel also addressed strategies for preventing resident-on-resident aggression, and responding to seniors exhibiting aggressive behaviour. As Dr. Barry Cooper articulated, "This comes down to a change in policy, and a change in thinking."
This event was the first of many put on by the BC Care Providers Association. "We are proud to have brought together representatives from the health and legal communities to discuss such an important issue, resident on resident aggression," says CEO Daniel Fontaine. "Discussions like these prove very productive in developing compassionate solutions for all victims involved."
For a recap of this topic, listen to CEO Daniel Fontaine discussing resident on resident aggression on CBC's The Early Edition with Rick Cluff:
+++
The topic for the next Care to Chat speaker series is, Big Brother in Seniors Care: Surveillance Technology, Ethics and Privacy, and will take place on January 22, 2014. Register here!