Minister of Health, the Hon. Terry Lake, addressed the seniors care sector today at a sold out luncheon jointly organized by the BC Care Providers Association (BCCPA), the BC Seniors Living Association (BCSLA), and the Denominational Health Association (DHA).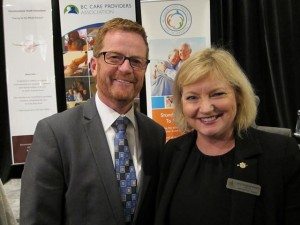 The focus of Minister Lake's keynote address was dementia care. Dementia, he said, is "life-altering for those with the disease and for their families and friends."
There are an estimated 60,000 to 70,000 people with dementia in BC, Lake said, and he applauded BCCPA for opening up the discussion about dementia with the Care to Chat Speaker Series.
The Minister spoke about the province's Dementia Action Plan released last year and new resources to better manage the care of those with dementia. For example, the P.I.E.C.E.S. program currently being piloted by the province and the shift to person-centered care that focuses on behavioral and psychological solutions rather than pharmacological ones.
"All of this," the Minister said, "will help us to better respond to the needs of those requiring care."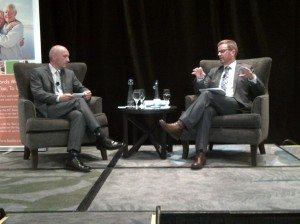 He also stressed the priority the province places on providing for the safety of residents and staff alike.
Lake went on to speak about the challenges and opportunities our ageing demographics present in meeting the needs of seniors and also ensuring that vulnerable seniors are protected. Seniors, he noted, are "a diverse group of people with varying needs" and not the "media stereotype" that typically see. As an example, Lake shared that his 76-year old father-in-law does the Grouse Grind twice a week.
Lake spoke about the importance of keeping seniors "active and engaged" in communities and noted the emphasis on keeping more seniors in their homes with supports; adding that he also understands the "important social aspect of care homes" and caring for those with more complex care needs.
The Minister closed by saying is looking forward to improving seniors care in the province and noted the opportunity BC has to have seniors voices heard and respected.
The highly successful lunchtime event, with over 300 people in attendance, was held at the Fairmont Waterfront Hotel in Vancouver and plans are already underway to make it an annual event for the seniors care sector. BCCPA CEO Daniel Fontaine wants to specially thank event Gold Sponsors McKesson and Remedy's RX.
For those on following on Twitter, a special hashtag was created for the event: #lunchwithlake.