After one-and-a-half years of careful planning and discussion, the BC Care Providers Association (BCCPA) is pleased to announce that a contract has been signed with WorkSafeBC to launch SafeCare BC – a new workplace safety association for the continuing care sector.
BCCPA President David Cheperdak says "congratulations are in order for all involved in bringing the SafeCare BC vision to fruition."
"The Alberta model we've based SafeCare BC on has an impressive record of reducing injuries and associated costs and we're looking forward to seeing similar results here in BC," said Cheperdak.
As the host organization, BCCPA is managing the implementation of the new Association, including developing the constitution and bylaws, communications, organizational framework, and assessing employee health and safety training needs.
BCCPA CEO Daniel Fontaine says the process of gathering information on what types of training programs and workshops can easily be brought into the BC market, and implemented quickly, is already well underway.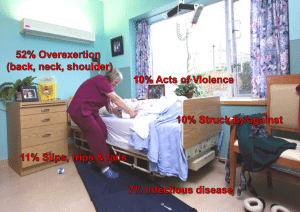 "We've heard clearly from our members that they don't want us to reinvent things. They want us to look at the best practices from neighbouring jurisdictions like Alberta," said Fontaine. "We want to start reducing injuries and saving costs as quickly as possible."
The SafeCare BC offices will be co-located within the BCCPA office on West Broadway in Vancouver. Effective immediately, SafeCare BC can be contacted at 604-630-5572, by email at info@safecarebc.ca, or by visiting www.safecarebc.ca.
Fontaine says efforts are also well underway to recruit a CEO for the new safety association, with plans calling for that new person to be hired – and in place – by early 2014. The new association will then be formally established at a founding meeting planned for May 2014.
BCCPA will be posting regular updates on the BCCPA website and on the new SafeCare BC website which will be launched later this week. Please check back frequently for regular updates.
BCCPA originally applied to WorkSafeBC in December 2012 to establish a new continuing care safety association, SafeCareBC, with the purpose of reducing the severity and frequency of injuries for people employed in non-health authority long term care facilities in BC.
SafeCare BC is based on a successful safety association model in Alberta which has seen overall claims decrease by an average of 20 percent, long term claims reduced by more than 25 percent, and back injury claims down by 36 percent since its formation in 2005.
The levy to fund SafeCare BC will apply to all employers registered in Long Term Care (classification unit 766011).