It's been a busy few months at the BCCPA! That's perhaps why the CEO Member Report for September is packed with 12 pages of information.
A few of the featured stories include: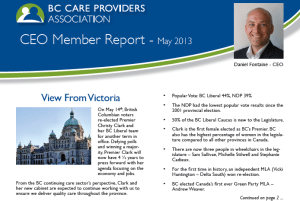 Care to Chat Speaker Series with Minister Suzanne Anton
Minister Terry Lake Lunch
SafeCare BC
Welcome to New Members
Chargeable Extras Survey
BC Care Aide Registry
2014 Budget Submission to BC Government
BC's Core Review – BCCPA submission
And lots…lots more
If you are a member and want to read a password-protected copy, please click here. We also extend a big thanks to Westland Insurance and Rexall Specialty Pharmacy for supporting this publication through their advertisements. The next CEO Member Report will be published in November.