Ascent for Alzheimers: Care Providers Begin Journey to Mt. Kilimanjaro
BCCPA Board Director Aly Devji, his mother Jane and brother Salim have begun their trek to climb Mt. Kilimanjaro to help raise funds for the BC Alzheimer's Society. In the Province newspaper today Janet Ingram-Johnson blogs about some of their early trials and tribulations. It is a fascinating read and they haven't even started their ascent yet! What follows is a copy of Jane's blog entry.
—
MARANGU, Tanzania — The Devjis came back to Marangu last night, and now our 2013 Ascent for Alzheimer's team begins to come together.
Jane Devji and her sons, Salim and Aly, are the backbone of the family's Delta View Campus of Care, but they have returned to Tanzania so that Jane, now 70, may again attempt to summit the mighty massif known as Kilimanjaro, whose Uhuru Peak, at 5,895 metres (19,341 feet) above sea level, is the roof of Africa.
The close-knit trio had to endure an utterly exhausting, stressful marathon of airport waits as they navigated from Vancouver, uncomfortably close to the horrific events in Nairobi, Kenya.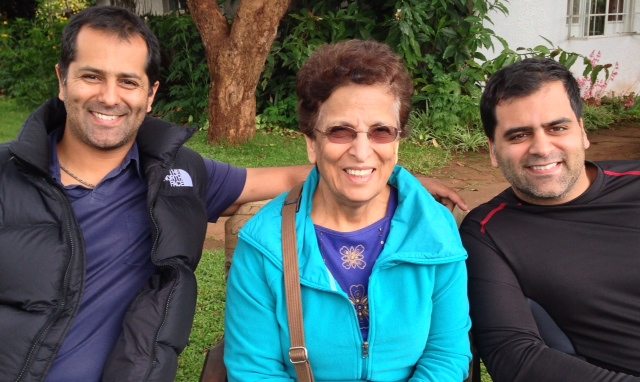 First, their plane in London was emptied and scoured over several hours after a bomb scare, and then they were forced to spend more uncomfortable hours at the Nairobi airport for a simple 45-minute connecting flight to Kilimanjaro International.
But all is calm at our timeless (Best Exotic) Marangu Hotel, where I have spent three days contentedly switching to African time and soaking up the exotic sights, sounds and scents of life near the Equator.
While muscled mountaineers and eager neophytes from far-flung nations have gathered in the hotel courtyard for their pre-Kilimanjaro-ascent briefings, I have explored the local villages, visited cultural displays and trekked to waterfalls.
Now, however, with the rest of our team due to arrive tomorrow, it is time for me to focus on our mission: to ascend as high on Kilimanjaro as we can, while raising money for the Alzheimer Society of B.C. and spreading awareness of the need to help the victims of dementia.
Each of our eight-member team has pledged to raise at least $10,000 and we pay all our own expenses.
It will be Jane Devji's third ascent; her first was in 1965, as a young woman raised in what was then colonial Tanganyika, and her most recent was with the 2009 ASBC team.
Although for all Ascent teams the journey matters more than the summit, Jane has yet to stand on Uhuru and very much wants to do so — and not to swell her ego.
"We who can climb Kilimanjaro can quit any time we want to, if we don't feel up to going on," she says.
"People who have dementia cannot quit. They have no options.
"So, it is important that we do not quit if we want to help them." [quote name="Jane Ingram-Johnson" pull="right"]First, their plane in London was emptied and scoured over several hours after a bomb scare, and then they were forced to spend more uncomfortable hours at the Nairobi airport for a simple 45-minute connecting flight to Kilimanjaro International.[/quote]
Salim, now 42, reached Uhuru Peak on the 2009 ASBC Ascent, but younger brother Aly, now 33, experienced the effects of altitude and reluctantly called off his summit bid at still-lofty Gilman's Point (which was his mother's turning-back point in 1965). Jane reached a high point called Kibo before severe altitude sickness took its toll and forced a rapid descent.
Apart from accompanying their mother on her mission, what brings Salim and Aly back another time? Already, the family does does more than most for the dementia cause at its Delta centre, caring for some of the most severely afflicted dementia sufferers in B.C.
Dementia takes many forms and many conventional facilities cannot cope with extreme emotions, choosing to restrain them physically rather than find ways to treat their needs and feelings. Since 1976, Jane has pioneered replacing restraints with more sensitive approaches, making Delta View a template in the province.
For Aly, the reason to stay actively involved is obvious.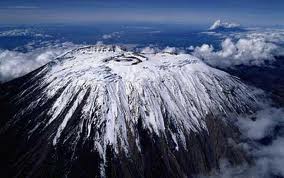 "Eventually, all of us are going to know someone who has dementia. We may even succumb to dementia ourselves. We have to support each other and find more ways at least to halt the progress of this terrible disease, while we work to find a cure."
Aly is also the father of a new baby son and he knows the next few years will be devoted to his family and not to adventure travel.
"This is probably my last chance for a while to climb Kilimanjaro," he says.
 Salim admits that in 2009 he was so focused on the summit he forgot to stop and "smell the roses". This time, he says, he won't make the same mistake.
Salim too is a family man with two young children, whose wife is also on Delta View's management team.
Our seven-day ascent bid begins Friday. To find out more about the 2013 Ascent for Alzheimer's and the work of the ASBC, go to ascentbc.ca. Donations (of course) are always welcome!
I plan to continue writing from the foothills and slopes of Kilimanjaro over the coming days and nights, as technology permits. I very much hope you will join us on this journey and help spread awareness of the Alzheimer cause.