The BCCPA regularly highlights the excellent programs and services offered by our members. As part of this ongoing series, we are pleased to share another submission provided to us by our member Revera Living.
+++
To celebrate Canada Day, the residents of New Horizons Community of Care entered as participants in the Canada Day parade. This was an extraordinary way for Residents to be active in their community and represent the home they are living in.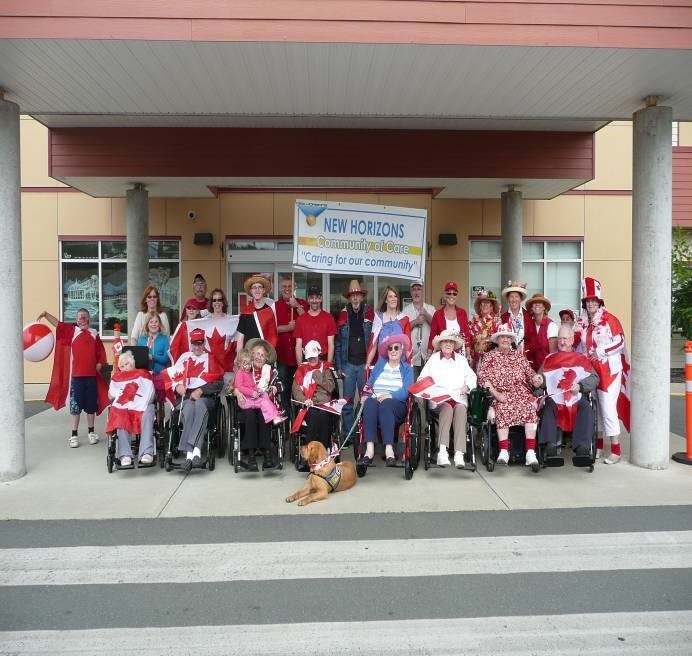 Looked for something new and different for the residents, a request for an application to participate was made to the local Campbell River committee that was organizing the parade. Once the application was filled out and accepted, guidelines were given, the fee of $10 was paid, and NHCC was officially accepted into the parade!
The challenge was trying to find enough volunteers to assist or accompany the residents via the four blocks to the parade, several blocks in the parade, and then the four blocks to return home. On the day of the parade, 30 volunteers were lined up to participate. Approximately 23 Residents participated in the actual parade in wheelchairs being pushed by staff and volunteers, followed by two staff members in a van should there have been an emergency.
This event is a platform for community spirit and involvement within the Resident's home and a sense of being part of the Campbell River community.
Written and submitted by Connie Luck, Executive Director and John Vaillancourt, Recreation Manager – New Horizons