Recently, our Director of Policy and Research, Heather Campbell, attended an international forum on creating positive changes in the healthcare working environment and in the work practices of care providers.
The "Time to Care" forum was held at the majestic Castle Hindsgavl in Denmark. Hindsgavl is a beautiful combination of a traditional castle and a modern hotel. Its history goes back to the 12th century. It is surrounded by 313 acres of garden, park, meadow and forest. In the 19th century, the setting provided Hans Christian Andersen with an inspirational location to write some of his fairy tales.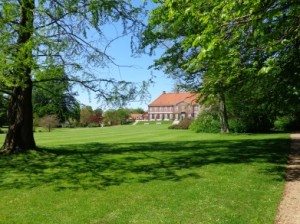 The goal of the forum was to create an international network of healthcare leaders, providing an opportunity for cross cultural dialogue, exchange of experiences and shared solutions. The dialogue focused on care related injuries, physical stress on the healthcare workforce, and the use of technology and proper techniques in patient handling and movement.
The forum kicked off with an innovative presentation by Dr. Claus Risager of the Department of Robot Technology at the Danish Technological Institute. Dr. Risager discussed current and future technologies in healthcare, and he demonstrated how robots can be used in the care setting. Dr. Risager used a computer in Denmark to maneuver a robot in a California training hospital room. Campbell says, "This technology would be very useful for rural parts of British Columbia, where access to specialists may be limited. The possibilities seem endless."
The second day started with Dr. Kenneth Harwood's presentation on US healthcare policy and safe patient handling and movement. Dr. Harwood provided an informative overview of the possible directions for US regulatory and accrediting bodies regarding safe patient handling and movement.
Dr. Anne Faber Hansen then gave a presentation on the physical demands in healthcare work, with a specific focus on the loads on the back and the role of individual factors such as the worker's gender, age, individual resources and work ability. Campbell says, "Dr. Hansen presented her interesting finding that the most important variable influencing loads on the back is the healthcare worker him- or herself, as opposed to patient weight or disability. This reinforces the importance of proper training and technique."
Next, Dr. Mike Fray of Loughborough University explained how post-graduate education can improve the delivery of patient handling in health, social and community care. The UK is currently the only country that educates specialists in the field of patient handling.
Day three began with Dr. Julie Hides' presentation, "Can research on motor control help decrease lower back pain and work related musculoskeletal injuries?" Dr. Hides discussed her research with Cricket Australia, the Australian Football League and the European Space Agency, and how it relates to current attempts to decrease work-related musculoskeletal problems among sonographers. 
Per Halvor Lunde and Kristina Oksfelt then discussed interactive 3D animation programmes for the healthcare sector. They provided a demonstration of the training tool, and explained how it makes for more effective and efficient learning, ultimately making more time to care.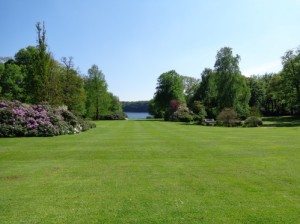 The "Time to Care" forum certainly achieved its goal, says Campbell. She looks forward to continuing the cross cultural dialogue with the international network of healthcare leaders that gathered at Castle Hindsgavl. "This network will be particularly helpful when we collaborate with our future colleagues at SafeCare BC – the province's new workplace safety association for the continuing care sector."
Campbell's trip was generously funded by Guldmann Inc.