A new best practices guide released by the BC Care Providers Association (BCCPA) will help reduce the need for anti-psychotic medications as well as improve worker safety. The Best Practices Guide for Safely Reducing Anti-Psychotic Drug Use in Residential Care took almost a year to produce and is now available online through the BCCPA website.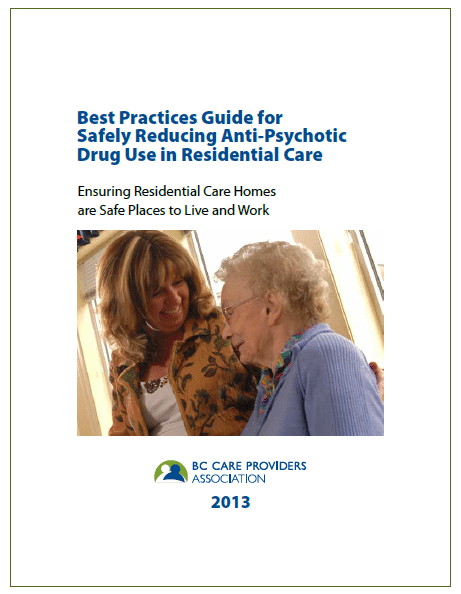 "This guide is not only informative, but it tells a great story about how innovations in the continuing care sector are helping to improve the quality of live for many of our residents," says Daniel Fontaine, CEO, BCCPA. "When you read about the fact one care provider was able to drop the rate of anti-psychotic drug usage from 25% to 3.5% over a period of less than two years – you can't help but be impressed."
"Education and information are pivotal to raising awareness about person-centred care and ensuring that persons living with Alzheimer's disease or another dementia are treated and cared for with respect and dignity," states Larry Okotinsky, CEO of the Alzheimer's Society of BC. "We applaud BCCPA for the step they have taken to further educate and inform care providers and encourage continued dialogue about best practices."
In 2012, the BC Care Providers Association invited residential care homes across the province to express their interest in sharing their stories about reducing the use of anti-psychotic drugs, for inclusion in a best practices guide for care providers. We received a very positive response, and seven of the homes are featured in this Guide. All provide publicly funded complex care to seniors or adults with an acquired brain injury on behalf of British Columbia health authorities.
"This guide should be a must read for anyone working in the continuing care sector in B.C." says Martha Jane Lewis, Executive Director for the BC Centre for Elder Advocacy and Support. "It's great to see BC's care providers openly discussing and advocating for non-pharmaceutical options such as music and aroma therapies to treat people with dementia."
Residential care homes are also workplaces. It is important to keep staff safe, by minimizing their risk of being injured by a resident's aggressive behaviour. According to WorkSafeBC, the second most common cause occupational injury in residential care is being struck or grabbed. This accounts for over 1,000 time-loss claims per year in BC. Many of these claims are related to staff caring for people with dementia. 
The project was funded through a partnership agreement between the BC Care Providers and WorkSafeBC.
****
Since its release, the guide has proved to be quite popular. In less than 24 hours, the guide was downloaded over 200 times. The media has also taken the time to profile the guide with their listeners/readers. CKNW radio was first off the mark with their coverage. You can hear reporter Janet Brown's story here. A follow-up story can also be heard by clicking here.
Heather Campbell, Director of Policy and Research, appeared on the Bill Good Show with guest host Michael Smyth to discuss the guide. The podcast is available in four segments: Part 1 of 4  |  Part 2 of 4  |  Part 3 of 4  |  Part 4 of 4
In addition, the Globe and Mail ran a great article.
For further background information about this initiative, please click here. Two videos were also produced as part of our "living guide". Click below to view them:
Northcrest Care Centre
New Vista Care Home