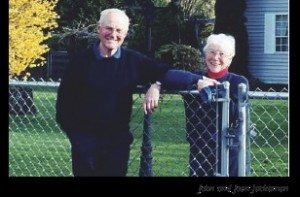 It started eight years ago, with Joan Jackaman was still in her early 70s. She began to forget her bank card number regularly, and that's when her husband John Jackaman suspected something was wrong.
"Initially I thought it was Alzheimer's," says John, an 80-year-old former military pilot.
"My wife suffers from Lewy Bodies Parkinson's."
A disease that attacks both the body and the mind, Joan was left crippled with no short-term memory. John cared for his bedridden wife at home for six years before transferring her to the Eden Care Centre in Chilliwack in 2010 when Joan stopped eating.
With two sons that both had poor health as children, John is no stranger to health facilities of varying qualities but applauded Eden for the work they do.
"In the years I've been there, whether it's the laundry lady, the cleaner or the server at the tables they will all stop what they're doing to help the residents. Nobody puts their hands up and say that's not my job," says John who visits the centre at all times of the day or night.
His experiences at Eden are actually part of a book that he has written about the journey he and his wife have been on since she was diagnosed called A Passing Delayed but Love Lives On. John says in a way, he started the book three decades ago.
"I have been writing a family history from the 1800s — my wife and I started it in '83 or so. I wrote a story about every living relative on her side and my side of the family, and the adventures of my 36 years in the military and so on," he says.
"I started talking to someone and mentioned I had a wife in a care home. And suddenly I realized, embedded in my journal, were entries about coping with my wife and her illness. I extracted it all and put it in the form of a book with 19 chapters."
In the editing stages now, John hopes to have the book printed soon. He wrote the book with no goal other than to share his personal story and lessons learned. He says the process has also provided him some solace.
"It was good therapy for me, as a person looking after a dearly beloved one. It has made me ask 'Have I done enough? Could I have done better?'
– Written by Benjamin Yong