Students in Conference
ABOUT THE PROGRAM
Background
In recognition of its 40th anniversary, BCCPA sponsored 40 post-secondary students currently enrolled in full-time studies in BC to attend and actively participate in our annual conference. The program will run from 2018 to 2020.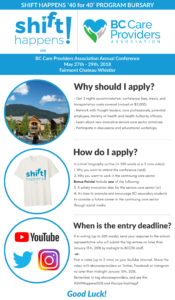 Student Participation
The BCCPA Annual Conference is three days of events, educational workshops and networking with specific themes and nationally recognized keynote speakers. Students get an opportunity to work behind-the-scenes with our panelists, Ministry of Health delegates, other students, associations, organizations, and professionals in the continuing care sector. Students may also get the opportunity to participate in discussions and debates, workshops and make presentations to the assembled delegates.
Bursary Applications
Students enrolled in programs such as gerontology, nursing, kinesiology, recreational leadership, health sciences, health administration, health leadership & policy, engineering, occupational health and safety or health information management, are encouraged to apply for the bursary.
If you'd like your school to participate in the bursary program, please contact BCCPA Director of Programs Snezana Ristovski at snezana@bccare.ca.
To find out how to submit a video application, take a look at the "40 for 40" bursary program poster.
Stay tuned for application instructions for written submissions.
Safety Den
BC students are also eligible to participate in the upcoming 2018 edition of Safety Den. If you have an idea or concept that you think would be innovative for the continuing care sector, submit your application to SafeCare BC and you may also be eligible for a travel and conference fee bursary. You will get the opportunity to pitch your idea to the Safety Dragons and win a cash prize!
Bursary Recipients 2018
Check this section in February 2018 for the successful bursary recipients who will attend the BCCPA 2018 Annual Conference.
Director Of Programs
Please contact the Snezana Ristovski, Director of Programs at snezana@bccare.ca if you would like more information about the program.