Care to Debate – Deadline Feb 28 March 17th – extended deadline
The BCCPA is holding its first ever Care to Debate event, a fun and interactive contest that will be held to select the number one motion regarding how to improve Seniors Care in B.C. and/or Canada. The contest is open to all members of the public, including BCCPA members, sponsors, and students!
To apply, please fill out the motion template (Word Doc), which includes background information and details on the motion proposed, as well as reasons why it should be selected as the top motion.
Up to five individuals will be selected to outline their motion (up to five minutes each) in front of all delegates at our Annual Conference.
Details
Date: Tuesday, May 30, 2017
Time: 2:30 – 4:30pm
Location: Fairmont Chateau Whistler Resort
Submissions should be emailed to Michael Kary, Director of Policy and Research, at michael@bccare.ca.
2nd Annual SafeCare BC Safety Den – Deadline April 21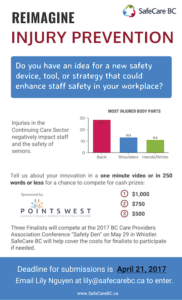 SafeCare BC is holding its 2nd Annual Safety Den – sponsored by Points West AV – an exciting contest that highlights safety innovations in the home health and continuing care sectors. Following the success of last year's event, which focused on safety innovations to prevent musculoskeletal injuries (MSI) and promote safe resident handling, this year's competition is open to all ideas that reimagine injury prevention.
Three finalists will be chosen to compete at the event at our Annual Conference on Monday, May 29th from 3:00 to 4:30 pm, where they will present their safety innovations to our panel of safety judges.
This will include questions from the judges, moderator, and the audience. The winners will be chosen by the panel of judges, and awarded bragging rights, as well as cash prizes.
To apply, please tell us about your safety innovation in a one minute video or 250 words or less. The deadline to submit is April 21, 2017. SafeCare BC will cover the costs of travel expenses for finalists to participate if needed.
Details
Date: Monday, May 29, 2017
Time: 3:00 – 4:30pm
Location: Fairmont Chateau Whistler Resort
All submissions should be submitted to Lily Nguyen at lily@safecarebc.ca.